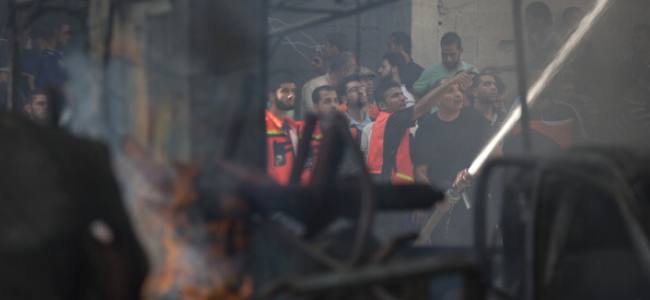 Humanitarian emergency in Gaza Strip after the Israeli attacks
This report is produced by OCHA oPt in collaboration with humanitarian partners. It covers the period from 7 July (1800 hrs) to 9 July (1500 hrs). The next report will be issued on 10 July. 

The targeting and destruction of residential properties in Gaza is the main cause of civilian casualties.
Some 150 homes have been destroyed or severely damaged by Israeli airstrikes, displacing about 900 people who are being hosted by relatives.
Gaza hospitals treating injuries are affected by severe shortages of medical supplies and fuel needed to operate backup generators. Indiscriminate rocket firing by armed groups from Gaza has targeted main Israeli population centers, but has resulted in no casualties, so far.
OCHA AND UNRWA REPORT
On the night of 7 July 2014, the Israeli army launched a large military operation in the Gaza Strip, codenamed "Protective Edge", with the stated objective of stopping Palestinian rocket firing at southern Israel and destroying the military infrastructure of Hamas and other armed groups. Israeli attacks have so far included heavy aerial and navy bombardment throughout the Gaza Strip, targeting military installations, rocket launching sites and the residences of alleged members of armed groups. Israeli media reports indicate that the operation will be gradually scaled up, and may include ground operations.
Prior to the start of the operation and throughout, Palestinian armed groups, including Hamas' military wing, have shot hundreds of rockets towards Israel, reaching the Tel Aviv and Jerusalem metropolitan areas and other localities as far as 100km from the border with Gaza. However, the vast majority of the rockets have fallen in open areas, while dozens of others targeting built up areas have intercepted by the Iron Dome missile interception system. A total of four Israelis, including two civilians, have been injured as a result of rockets, alongside limited damage to property.
Since the start of the operation, at least 35 Palestinians, of whom at least 23 were civilians, including seven children, have been killed by Israeli bombardment. Approximately 300 others, including 71 children and 66 women, have been injured, according to the Palestinian Ministry of Heath in Gaza. At least 35 residential buildings were reportedly targeted and destroyed, resulting in the majority of the civilian casualties recorded so far, including an attack on 8 July in Khan Younis that killed seven civilians, including three children, and injured another 25. In most cases, prior to the attacks, residents have been warned to leave, either via phone calls by the Israel military or by the firing of warning missiles.
It is estimated that 150 houses in Gaza have been totally destroyed or rendered uninhabitable, and another 1,900 have sustained damage during airstrikes and shelling. So far, some 900 people have been displaced and are being hosted by relatives. No emergencies shelters have yet been opened. Damage was also inflicted on one sewage pumping station and two key water facilities disrupting the provision of water and sanitation services. Hospitals operated by the Ministry of Health (MoH) are functioning and treating injuries, despite severely depleted medical supplies and long electricity outages.
The streets of Gaza are mostly empty and almost all shops are closed. Due to a general strike, most government institutions were also closed, except for medical facilities. The Erez passengers crossing with Israel is open only for foreigners and urgent humanitarian cases, while the Rafah crossing with Egypt remains closed. The Kerem Shalom commercial crossing is functioning partially, allowing for the entry of only urgent humanitarian supplies and fuel. The Gaza Power Plant continues to function at half of its capacity, while electricity outages of 12 hours per day continue.
The Humanitarian Coordinator and the Director of UNRWA Operations in Gaza have both declared an emergency and set up mechanisms to coordinate emergency assistance. Local emergency coordination mechanisms, including by the Palestinian Civil Defence (PCD), the Palestinian Red Crescent Society (PRCS) and Gaza City Municipality, have been also set up to provide first responses, as needed. There is coordination at the field level between PCD and PRCS for ambulances and search and rescue operations.
The current crisis comes against a backdrop of heightened vulnerability and instability. Unemployment has increased dramatically since mid-2013, following the halt of the illegal tunnel trade by the Egyptian authorities, exacerbating the impact of the longstanding access restrictions imposed by Israel. Additionally, former de facto government employees, including the security forces, have not been paid salaries regularly since August 2013 and no salaries at all since April 2014. Delivery of basic services has also been undermined due an ongoing energy crisis.