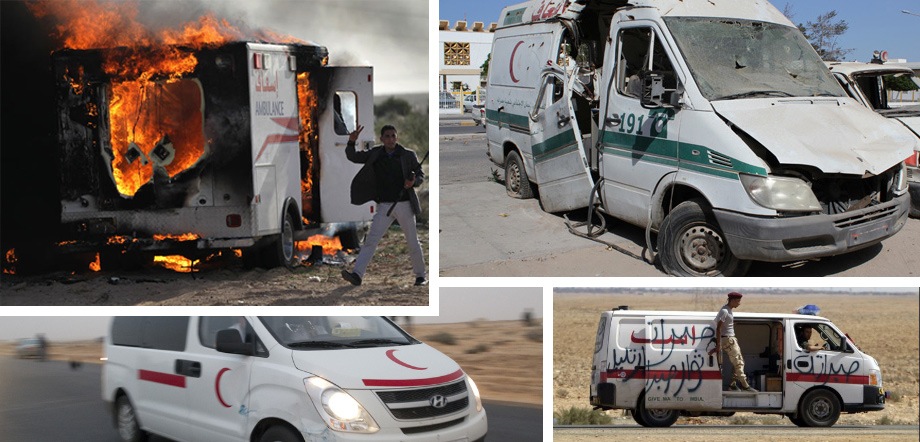 Libya; the pre-hospital and emergency facilites situation during a civil war
Article by: Dr. Hisham Ahmed Ben Lamin MD, MBBCH, PGDipECho (Australia)
I was asked to talk about the pre-hospital and emergency facilities in Libya, which is really a difficult issue due to chaos situation present in this country. Libya had seen during the 2011 turmoil an extensive destruction of it's infra structure capabilities and the health services were not an exception.  The collapse of this country for the last four years led to the need to start from the scratch since all facilities were used by different rebels and militias in disastrous way led to its destruction or robbery.
The pre Hospital services for emergency situations are now almost absent in all over the country , the present ambulance vehicles are working as a taxi service , taking injured individuals from the scene to the hospitals using its bed , oxygen supply and a  non trained paramedical personnel . Almost all ambulances are lacking defibrillators, ECG monitoring and proper emergency medications. What is left from Air Ambulance is an airplane(s!!) with bed and oxygen supply in the best conditions.
Intensive care units (ICUs and CCUs) are reasonably moderately equipped , but have the advantage of a very competent medical staff, especially in the government hospitals. These intensive care units are lacking of the continual supply with medications and instruments but they are trying their best. The cardiac catheterization is done to almost all needed cases in main centers with PCI facility which are very few in number. The problem in the absence  of a real government , is irregular salary paying to medical staff and lack  of security that enhanced them to leave the country and work in the nearby Gulf countries or in Europe.
Libyan patients suffering from different morbidities including emergency ones are targeting better medical services and capabilities in Turkey, Jordan and European countries.

My opinion is that all Arab countries that faced the Arab Spring Turmoil are experiencing the same situation which Libya is suffering from.
If the general situation will become better in the future, I advice for the following:
Intensive training for the pre hospital emergency staff and supporting them with proper equipment.
Providing the country with more Ambulance vehicles and Helicopters fully equipped with training programs in Europe or other capable countries.
Promotions to be given to medical staffs to avoid Libyan dryness of medical personnel.
Involve European medical bodies to participate in providing different capabilities to Libyan health services.
International support for the medical emergency bodies in Libya and to try to protect them during daily practice from war hit by convincing different militias to consider them as neutral bodies and avoid attacking them , whatever  the patient  side of this war.
All above, will depend on the stability of this country, which I am sure it will get at the end of the road.
Dr. Hisham A. Ben Lamin , Clinical and Critical Cardiologist