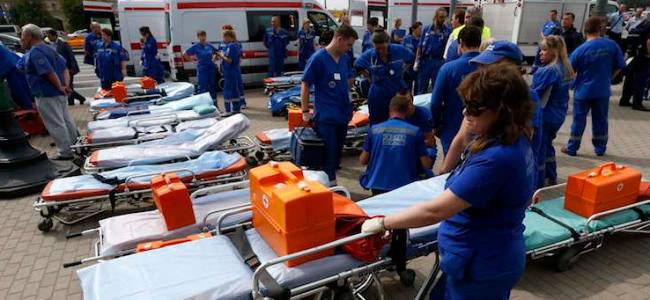 Moscow metro train derails: 16 dead
Three people died and dozens were injured after a train derailed in the Moscow metro during rush hour today. Television footage showed rescue workers carrying the injured away on stretchers, while paramedics treated some on nearby grass verges.  News reports said some people were believed to have been stranded in a train underground. Russian national television described scenes of chaos on the packed underground system, saying passengers fell like dominoes when the train braked abruptly. The accident is one of the most serious to hit the Moscow metro in recent years.

"At present we know that three people have died," Georgy Golukhov, head of Moscow's health department, told the Interfax news agency, adding that more than 55 people had been hospitalised and another 12-15 had sought medical help. Golukhov told the state RIA Novosti news agency that about 60 ambulances were stationed at the scene, while one seriously injured passenger was evacuated by helicopter. A spokesman for the emergencies ministry said in televised remarks that the accident happened when a train braked suddenly after a false alarm.
AFP