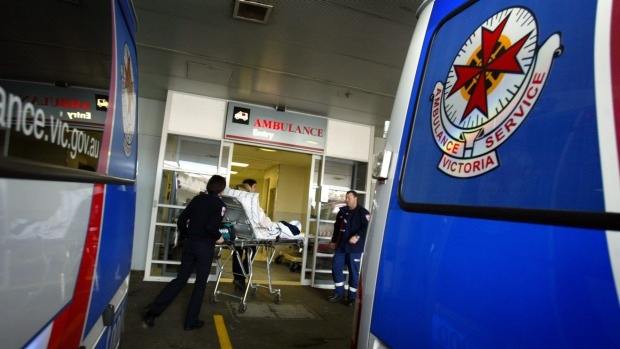 Oxygen damaging for heart attack patients, study says
The routine practice of giving oxygen to patients having heart attacks has been linked to increased heart damage and a greater risk of repeat attacks in a landmark study by Melbourne researchers.
Researchers say the findings, presented at the annual American Heart Association conference in Chicago, are likely to change guidelines for emergency treatment around the world.
Their study followed 441 patients who were treated by Ambulance Victoria paramedics for the most serious type of heart attack, called an ST-segment elevation myocardial infarction (STEMI), in which the coronary artery is completely blocked.
Half of the group was given oxygen through a mask in accordance with routine practice, even though their oxygen levels were normal. The other half did not receive oxygen and simply breathed normal air.
Researchers found patients given oxygen were five times more likely to have a repeat heart attack during their stay in hospital compared with those who did not receive oxygen.
Patients given oxygen were also found to have 20 per cent more damage to heart tissue as shown on an MRI scan six months later.
Researchers did not find any statistically significant difference in survival between the two groups. However, studies are under way overseas to assess this.
Principal investigator Stephen Bernard, a senior intensive care specialist at The Alfred hospital, said giving oxygen to patients with chest pain had been standard practice for decades.
"A heart attack is when an artery to the heart muscle is blocked and you suddenly get chest pain because that part of the heart is not getting any oxygen," he said.
"For 30 or 40 years we've given oxygen, the theory being that part of the heart isn't getting any so we should give it."
Professor Bernard said it was only in recent years that doctors had began to question the practice, and worry about causing damage by flooding the injured heart with oxygen once the blockage was cleared.
Co-researcher and paramedic Ziad Nehme said oxygen could actually narrow coronary arteries and reduce blood flow to the heart, and may increase inflammation and stress on the heart tissue during a heart attack.
He said Ambulance Victoria had already modified its approach and gave oxygen to patients having a heart attack only if oxygen levels in their blood were below normal.
Professor Bernard said he expected patients undergoing emergency treatment for heart attacks would no longer routinely receive oxygen as a result of the study, which is due to be published in a journal, although it would take time for guidelines to be reviewed.
"People like to see a thorough review by experts, but we think the results are pretty compelling, and if I get chest pain tonight, I am not letting anyone give me oxygen," he said.
[document url="http://www.med.uio.no/klinmed/forskning/grupper/iskemisk-hjertesykdom/artikler/oxygen.pdf" width="600″ height="800″]
Original source: The Victoria Age