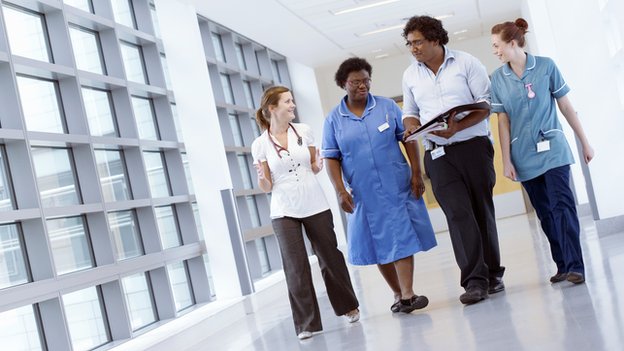 Six reasons A&Es are struggling
A&E waits in England are at their worst level for a decade with the four-hour target now being missed – as it is elsewhere in the UK.
Pressures have become so great that a number of hospitals have had to declare major incidents, calling in extra staff, cancelling operations and – in extreme cases – diverting ambulances away from A&E units.
It has led to reports of patients queuing in corridors, being treated in side-rooms and ambulances struggling to drop patients off.
But what is behind these problems? The truth is there isn't one simple answer, but rather a multitude of factors behind the difficulties being seen across the health service.
It has been known for some time that A&E units are struggling to recruit and retain staff.
The College of Emergency Medicines says each unit should have 10 consultants with the largest trusts needing up to 16. But the average number stands at just over seven. There are also said to be shortages of A&E nurses.
Hospitals have reported problems both recruiting and retaining staff with reports emerging of emergency care doctors emigrating abroad.
The college said the "relentless" pressures on A&E units make it unattractive.

111 Helpline
The 111 helpline was launched in the spring of 2013 to replace NHS Direct. The idea was to create a system that was integrated better with local health services enabling appointments to be booked.
But it was beset by problems from the start. One of the biggest criticisms has been the fact that it has fewer clinically trained staff than its predecessor.
This, critics say, has led to increases in the number of patients being referred to A&E or an ambulance being called.
Over one in 10 calls end in an ambulance being sent, while one in 13 lead to a patient being sent to A&E. Although, interestingly, in the lead up to the festive period, when calls reached a peak, those figures actually fell.