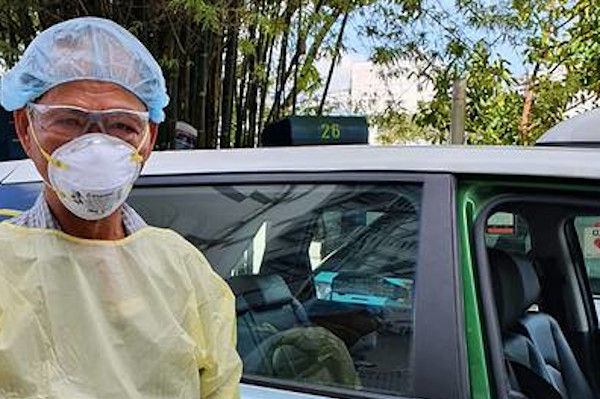 Taxi instead of ambulance? Volunteers drive non-emergency coronavirus patients to hospital in Singapore
They wear protective equipment and drive suspected coronavirus patients from their home to the nearest hospital on board of taxis. Who are they? GrabResponse volunteers, a dedicated non-emergency transport service which is part of a Ministry of Health (MOH) initiative.
The Malaysian Ministry of Health piloted the GrabResponse in March 2020. It is not an ambulance service, but a dedicated non-emergency transport service through taxis that ferries suspected coronavirus cases to hospitals. Their service works both for who is on Stay-Home Notice (SHN) or are suspect COVID-19 cases.
Taxi instead of ambulance – Volunteers drive suspected coronavirus patient to hospital by taxis – How does it work?

The service is active since March 2020 and it is available only to authorised MOH dispatchers. They have to be booked on a dedicated platform to transfer with their vehicles (taxi) a stable and "clinically well" case to healthcare facilities. As the official website declares, the platform was developed to ensure seamless allocation of GrabResponse vehicles as and when the need for one arises.
These driver-partners have undergone and completed a special training by the Singapore Civil Defence Force, which covers comprehensive safety procedures to be sure that they are able to protect passengers as well as themselves. If drivers need assistance along the roads, there is an available helpline managed by dedicated dispatchers.
Another safety point is that all the vehicles used by these non-emergency drivers to transport suspected coronavirus patients must not be used for other services. For each trip, drivers are required to put on masks and Personal Protective Equipment (PPE), as well as discard their protective gear at designated decontamination zones. They have also to clean and decontaminate their taxis after completing each trip.
A brief experience of taxi ambulance during the coronavirus
The Grab driver Roy Lee was one of the first volunteers for GrabResponse and has already completed more than 45 trips over the past month and a half, picking up people and taking them to the hospital.

Like his colleagues, also Lee is protected by his PPEs and, both him and Wong Leng Pheng, another GrabResponse driver, were among the first few to volunteer for this activity.
A taxi instead of an ambulance, different points of view
As Lee explained to the CNA, during the first stages of the coronavirus, and he was about to pick up patients from the clinics, nurses would push him away. They would expect an ambulance, but he had to explain that he was working for the Ministry of Health. It has been difficult to accept.
However, even if patients and families were not so keen on going with him on a taxi instead of an ambulance he is a familiar sight, now. His view when he picks up people of the same address, for example, has become a sort of "relief". Of course, we are speaking of suspected cases of COVID-19 who do not have a complicated clinical situation and do not need medical assistance.
Speaking of healthcare workers, the GrabCare has been launched. It is a dedicated on-demand service enabling healthcare professionals to travel to and from over 14 medical facilities seamlessly. The service is currently supported by over 10,000 driver-partners. Discover more details on Grab website.
READ ALSO – Taxi instead of ambulance?