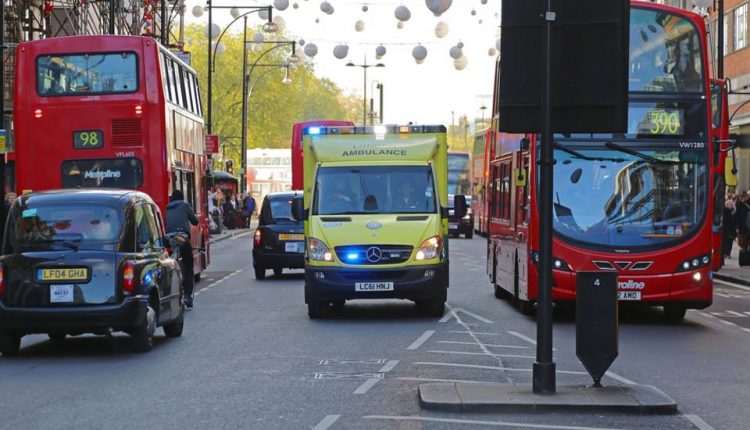 TOP 5 EMS Job opportunities worldwide - Europe
The 5 most interesting EMS job position of this week on Emergency Live. Our weekly selection can help you to reach the life you want as a health practitioner.
EMS professionals, are you looking for a new job?
Every day EMS and rescue professional can find online new ideas for getting a better life, improving their jobs. But if you need some suggestions for keeping your skills in service for another kind of job, involved in the EMS or in the industrial business around the health sector, here we are!
Emergency Live will show you every week some of the most attractive position in Europe about EMS and rescue activities. Are you dreaming of operating as a paramedic Zermatt? Would you like to see every day the beautiful heritages of Rome driving an ambulance? (No, really, you don't know what it is driving an ambulance in Rome!)
Well, we show you the TOP 5 job position you can reach directly with our links!
LOCATION: WALES (UK)
CLINICAL ADVISOR – TELEPHONE TRIAGE
Are you ready for a new direction in your career with new exciting challenges?

Would you like to work for a forward-thinking evolving service which is at the heart of unscheduled care in Wales where you can use your clinical knowledge to provide excellent care to patients through telephone triage?

Due to the ongoing roll out of 111 across Wales we, at the Welsh Ambulance Service, are know recruiting paramedics and registered (Adult or Children's Nurses to work in our 111/NHS Direct Wales Clinical Contact Centre based at Withybush Hospital.

The Clinical Contact Centre at Withybush provides an out of hours service and will open from 18.30-07.30 on weekdays and 24 hours weekends and Bank Holidays.

We are keen to hear from experienced Paramedics and Nurses who are now ready to progress their career or new challenge.

In exchange we can offer a range of contracted hours over the above periods a comprehensive training programme which supports clinician's revalidation/competencies and CPD training requirements.

Induction training will be part time for 7 weeks (30 hours over 4 days), in office hours for the first month and then a variable shift pattern.

Currently we are developing process where Clinicians can also work from home. Check out our Q&A document located at top right of the advert as it may answer most of your queries.

There are 2 posts available. For the nurse post apply under job reference 020-NMR008-0519. For the paramedic post please apply under job reference 020-AHP013-0519.

The ability to speak Welsh is desirable for this post; Welsh and/or English speakers are equally welcome to apply.

Closing date: 3rd July 2019

There will be two open days for you to come and ask us questions. They will be:

22nd and 29th June between 11am and 3pm.

Please register via reception on 01792 776252.

Informal discussion welcome. Please contact Lynne Elliott, Clinical Manager or any of the Senior Nurse Advisers on 01792 776252

If the above dates are not convenient, alternative arrangements can be made for an informal visit. The ability to speak Welsh is desirable for this post; Welsh and /or English speakers are equally welcome to apply.

Interviews dates: 15th and 16th July at Withybush Hospital
LOCATION: KIEL
AMBULANCE DRIVER OR PARAMEDIC
You drive an ambulance or accompany our patients to transport in Kiel or Europe. We, the Clinotrans GmbH headquartered in Kiel, have to enlarge us and are looking for our guard in Kiel reliable and committed drivers and attendants (m / w / d) from 21 years with license B for carrying ambulances by ambulance on behalf of the UKSH , Kiel campus, and Europe-wide sick repatriation transports on behalf of the ADAC.
LOCATION: TOLEDO
AMBULANCE DRIVER
It is required: ambulance driver, with average degree in technician / a in essential health emergencies. Valorable experience. For the area of "la sagra", (toledo). With knowledge of computers at the user level.

It offers: initial temporary contract to continuous full day, with possibility of conversion to indefinite.
LOCATION: TRUSTWIDE (UK)
STUDENT CRITICAL CARE PARAMEDIC
Requirements: In order to apply you must have successfully completed a minimum of 3 years clinical paramedic practice (when submitting your application), you must provide evidence that you have successfully gained a level 6 or higher qualification (you will be required to provide evidence at an assessment centre should your application be shortlisted), have a practice portfolio that highlights your development towards a critical care role. Candidates must be able to demonstrate a genuine interest in improving patient outcomes within the critical care arena. You will also be required to demonstrate clinical competence, effective communication skills, a forward thinking, positive approach and a commitment to CPD.

The CCP role is more than just operational in nature. It is integrated into all areas of the Trust and supports the delivery of training activity, along with clinical advice whilst working on the Critical Care Desk (CCD), located within the Emergency Operations Centre (EOC).

The selection process is rigorous. Following shortlisting, successful candidates will be invited to attend aassessment centre consisting of written, practical elements and a fitness test.

Assessments centres will be held on 25th, 26th and 27th June 2019- PLEASE NOTE – You will only be required to attend one assessment date. Venue will be confirmed at shortlisting stage.

Successful candidates will start their journey as a student CCP. You will be assigned to an operational base station where during year 1 you will undertake the full range of paramedic duties whilst developing as a student CCP. Upon completion of year 1 student CCPs transition to full time CCP practice under supervision whilst continuing the training programme. You will also be expected to undertake duties on the Critical Care Desk dispatching CCPs, providing advice and coordinating major trauma activity within the Trust.

This is a challenging but hugely rewarding career opportunity and you will join highly motivated and supportive teams based across the Trust.
LOCATION: SOUTHAMPTON
FORENSIC HEALTHCARE PROFESSIONAL
Are you looking for a new challenge in your medical career? Would you like the opportunity to put your clinical skills to use in a fast paced and challenging environment where no two days are the same?

PHL are looking for a full time Healthcare Professional to support Hampshire Constabulary in their custody suite in Southampton.

Could you identify if a detainee is aggressive or suffering from a mental health condition? If they are uncooperative or lacking diabetes medication? If they are a substance misuser or suffering from a head injury? Our Forensic HCPS are responsible for assessing and addressing the health needs of detained persons, as well as conducting forensic medical examinations gathering evidence for use in the criminal justice system.

You will be conducting clinical assessments, identifying and implementing appropriate interventions and collecting forensic samples. Providing advice and guidance to ensure appropriate care is maintained and keeping detailed and accurate records to ensure the health, safety and welfare of detained persons held in police custody. As one of our six core values, PHL also wants you to have fun at work in what can be a challenging environment!

Working hours:
Full-time or part-time opportunities available

Key Accountabilities:
EFFICIENT

Effectively deliver the requirements of the forensic practitioner service following the Codes of Practice of the Police and Criminal Evidence Act 1984 and locally agreed protocols.
Keep accurate, complete and contemporaneous notes of work carried out, including the recording of injuries. Ensure all activities are logged using the systems in use.
CARING