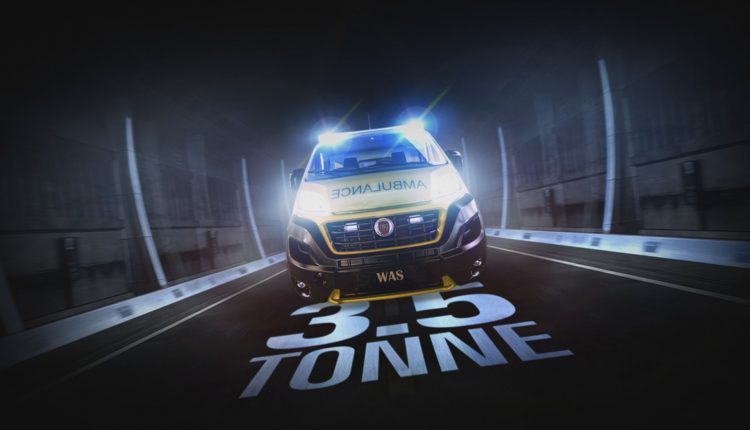 WAS introduces a new 3.5 tonne double crew ambulance for the UK
WAS UK unveil a new 3.5 tonne DCA solution for NHS. Paramedics will not need to invest £1000 for a C1 driving licence. "The ambulance is the working office of the paramedic and needs to be designed with them in mind".
WAS UK has unveiled the ground-breaking 3.5 tonne double crew ambulance (DCA). This is the first DCA in a generation that can be operated at full capacity and still be driven on a standard type 'B' driving licence.
Director of Operational Services at South Western Ambulance Service NHS Foundation Trust, Neil Le Chevalier, tells us about some of the key issues affecting ambulance trusts in England and shows how the arrival of this new vehicle, a double crew ambulance, can address them head-on.
Prior to the 1990s  ambulances in the UK were based on a 3.5 tonne weight capacity, but with the introduction of more and more life-saving medical equipment the operating weight of ambulances has continued to increase.
Double crew ambulance: a new launch by WAS
The WAS innovative lightweight aluminium ambulance body combined with a state-of-the-art Fiat-based chassis system has enabled this previously out of reach goal once again to be a reality, putting the UK at the very forefront of mobile medical technology.
This launch will enable ambulance trusts all over the UK to address one of the key issues they encounter on a daily basis: that newly qualified paramedics, technicians and emergency care assistants must take a C1 driving licence prior to being able to drive a DCA, at a cost of around £1000.
Neil Le Chevalier explains: "With the ambulance service recruiting more younger paramedics now, straight out of university, their driving licence no longer has a C1 category. Until they have their C1 driving licence they can't drive any vehicle weighing over 3.5 tonne. This can be a limiting factor.
There's also the cost of taking the additional driving test, which new recruits usually have to pay themselves. If we moved to a 3.5 tonne vehicle on a replacement basis we'd solve the problem in the longer term as there is no requirement for any additional license at this weight.
The design provides a resolution of many issues
"Innovation in design is also critical. The ambulance is the working office of the paramedic and needs to be designed with them in mind. Issues such as infection control, ergonomics and patient and crew safety are all features that have been addressed in the new vehicle."
Sales Engineering Manager at WAS UK, Tom Howlett, says: "Our new 3.5 tonne vehicle provides 20% more ergonomic working space than a van conversion. Our users tell us that this additional space is essential to the design of the 'treatment triangle', the area where the paramedic is seated.
It enables medical equipment to be in arms' reach while crews remain seated with a seat belt on. The increased ergonomic space also provides 360o patient access for enhanced clinical care – this has been a feature of ambulances operated on the continent for many years."
In February 2019, NHS England Chief Executive Simon Stevens challenged vehicle manufacturers to help "blue lights go green" and cut air pollution by developing more environmentally friendly ambulances.
The NHS Long Term Plan also makes commitments to cutting mileage and air pollution by a fifth (20%) by 2024 and ensuring nine out of 10 vehicles are low emission within a decade.
The new ambulance and the environment: a greener vehicle
Neil Le Chevalier says: "In South Western Ambulance Trust we do 24 million miles a year – we're a rural service – so we're always interested in new ways to be greener. The 3.5 tonne vehicle is good for fuel economy as well as for the environment."
Tom Howlett explains: "As you would expect from a lighter vehicle, the new 3.5 tonne ambulance provides environmental benefits: it reduces air pollution (CO2) by 20% compared to a current national specification van. This enables our customers to meet the target set by Simon Stevens well ahead of the 2024 target. Fuel consumption is also reduced in line with the emissions reduction, in the case of South Western Ambulance Trust this figure will be hundreds of thousands of pounds."
All of the WAS UK test data has been independently validated by Millbrook testing ground.
Emissions and fuel consumption were compared for normal driving, emergency driving and overall.