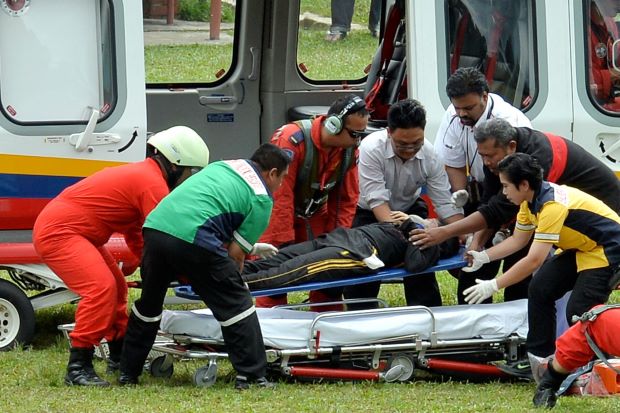 Ambulance Dispatching and Emergency Medical Services in Malaysia
Emergency Medical Services in Malaysia are young, but improving and growing rapidly due to growing public demand.
Malaysia is a federal constitutional monarchy that is located in Southeast Asia. The country is separated into two regions – Peninsular Malaysia and East Malaysia, further consists of 13 states and 3 federal territories.
Emergency Hotlines in Malaysia: what are the numbers
The country's Emergency Medical Services (EMS) is on the process of development. They implement an emergency hotline: 999 for government ambulance services such as the Ministry of Health hospitals, St. John Ambulance and Malaysia Red Crescent; while the hotline 991 is for the Civil Defense.
In the whole of Malaysia, there were 793 ambulance services reported in the year 2010. 85% of which is from the public service, reflecting 169,129 emergencies attended by the ambulance service in the country. Further, a ratio of 0.28 ambulances per 10,000 populations was noted, however, far from the standard of 1 ambulance per 10,000 residents.
The hotline 999 can be called anywhere in the country, but it is recommended to be familiar with various hospital numbers and other private ambulance services as well. They also implement various ground ambulance hotlines per area such as in Johor (+6072219000), Kedah (+60194803042) and Kelantan (+60199065055). Also, the country's air ambulance services are provided by the Royal Malaysian Police, Armed Forces and Malaysian Helicopter Services.
In times of disaster, the residents may call the hotline 991. The rescue group was established by the Malaysian Civil Defense which functions as a special government body to aid in all emergency and disaster events in the country. One significant event in Malaysia was in the year 2006, where it was hit of a tsunami that led to about 400 casualties, 88 of which were deceased. The early warning systems and lifeguards were able to warn the public to stay indoors.
Emergency Medical Services in Malaysia: what is the situation
The EMS in Malaysia dole-out 3 types of pre-hospital providers actively serving for their emergency services. They have Medical Assistants/Emergency Medical Technicians that have undergone a 120-hour of training courses and are able of providing CPRs and medication administrations.
Further, they also distribute Advanced Life Support Officers that were provided of 2635 of the training course and are able of administering intravenous fluids and adrenaline. However, it was reported that the standardization on the education requirements for Emergency Medical Services providers is missing.
All clients will be transported through the country's new modular vehicles equipped with Basic Life Support and Advanced Life Support facilities. It includes portable ventilators and ultrasound, which are manned by trained doctors and support staff.
Their emergency ambulances were used for inter-facility transfers; however, their equipment provision relies on the annual budget of the emergency department that mans the ambulance services. The burden is on the shoulders of the emergency department which may result in development struggles.

READ ALSO
SOURCES
The Official Portal of Royal Malaysia police
How to call an ambulance in Malaysia?