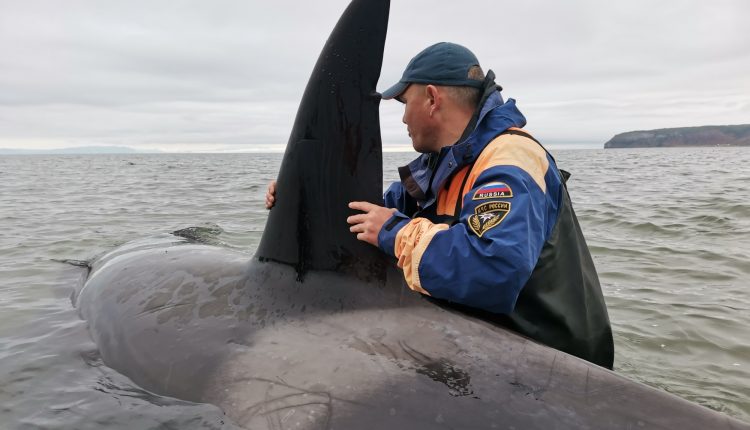 Civil Protection in Russia: the EMERCOM employees rescued a killer whale stranded in the bay
A curious but beautiful episode happened in Magadan, Russia: a baby orca was stranded in Gertner Bay, on the closest side of Russia to Japan, and was about to die
Magadan, the providential intervention of the Russian fire brigade and "Civil Protection"
The situation was resolved by Russian civil defence and fire brigade rescuers.
In reality, Russia does not have a Civil Protection system as we know it in Europe or in many other parts of the world (hence the inverted comma), but it has professional profiles in EMERCOM that are completely overlapping, inserted in a system that is very similar in its procedures and operational protocols.
They are essentially civil protection professionals, whereas in the rest of the world there are many volunteers.
EMERCOM is the Russian Ministry for Emergency Situations, and includes among its employees the Fire Brigade.
CIVIL PROTECTION EVACUATIONS IN MAXI EMERGENCIES: VISIT THE SERAMAN STAND AT EMERGENCY EXPO

Rescue and recovery of orca pup in Magadan
On the morning of September 16, the fire and rescue service received a message from an eyewitness that a killer whale cub was observed in shallow water in Gertner Bay, which was stuck on the shallows and could not go to sea on its own.
By the joint efforts of the rescuers and volunteers, the killer whale was turned to the sea and watered for several hours, since the animal was only half in the water.
After waiting for the tide and the rise in the water level, rescuers and residents of Magadan pushed the calf and helped him move off the shallow, after which the baby was able to go to sea on its own.
In total, 27 people and 9 pieces of equipment were involved from the EMERCOM of Russia.
Read Also:
Russia, 6,000 People Involved In The Largest Rescue And Emergency Exercise Carried Out In The Arctic
Earthquake In Haiti: Air Force Aircraft Deliver Humanitarian Aid To The Affected Population
Source: