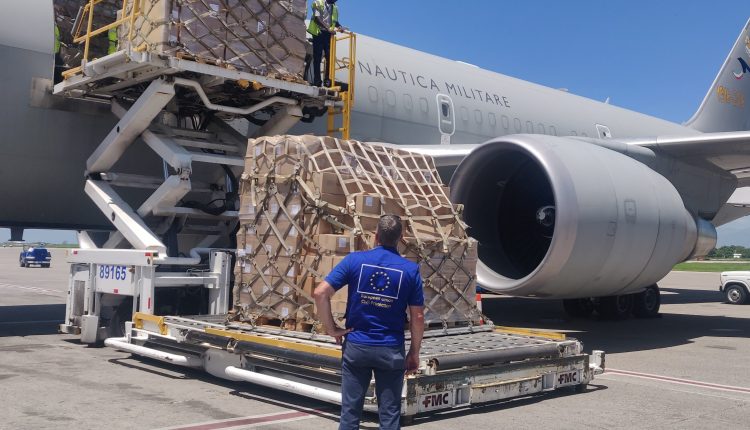 Earthquake in Haiti: Air Force aircraft deliver humanitarian aid to the affected population
Earthquake in Haiti. A KC-767A transport aircraft from the 14th Air Force Wing took off on the morning of Sunday 12 September from the military airport of Pratica di Mare (RM) for Port-au-Prince (Haiti), to provide support to the population affected by the earthquake and tropical storm that hit the island a few weeks ago

Earthquake victims in Haiti: 10 tonnes of humanitarian aid from Italy
The plane, an Air Force strategic transport aircraft, loaded more than 10 tonnes of material made available by the Civil Protection Department.
In particular, this includes medicines, medical supplies, personal protective equipment (including surgical masks), tents and blankets.
The aircraft arrived at its destination in the late afternoon of Monday, 13 September, and immediately proceeded to unload the material. At the end of the operations, the KC-767° left to return to its base in Pratica di Mare.
Once again, this operation bears witness to the dual systemic use of Defence capabilities and components that allow the country to have a military instrument capable of guaranteeing, in addition to the performance of institutional defence and security tasks, effective integration with the civil components of the State for non-military activities in support of the community, in Italy and abroad.

Earthquake in Haiti: the Armed Forces have always been in the front line in supporting the Civil Defence in aiding and assisting populations hit by catastrophic events or natural disasters
The Defence Force has repeatedly deployed AM aircraft to provide aid not only in the Italian regions hit by earthquakes or other natural disasters, but also outside Italy: Iran, Iraq, Nepal, Pakistan, USA, Philippines, Mozambique and, more recently, in Northern Europe.

The KC-767A, used by the 14th Wing at Pratica di Mare (Rome), is an aircraft that guarantees high flight and load autonomy.
As well as being used for in-flight refuelling of other military aircraft, it can also transport materials and personnel, especially on long-haul routes.
For example, the KC-767A will be used for the repatriation of nationals stranded in Wuhan in February 2020, when the Covid-19 global emergency broke out.
The KC-767A also has the capacity to transport highly infectious patients in biocontainment, carrying up to 10 Aircraft Transit Isolator (ATI) stretchers.

Read Also:
Haiti, Earthquake Response Efforts Continue: UN And UNICEF Actions
Earthquake In Haiti, More Than 1,300 Dead. Save The Children: "Hurry Up, Help The Children"
Haiti, The Aftermath Of The Earthquake: Emergency Care For The Wounded, Solidarity In Action
Source: