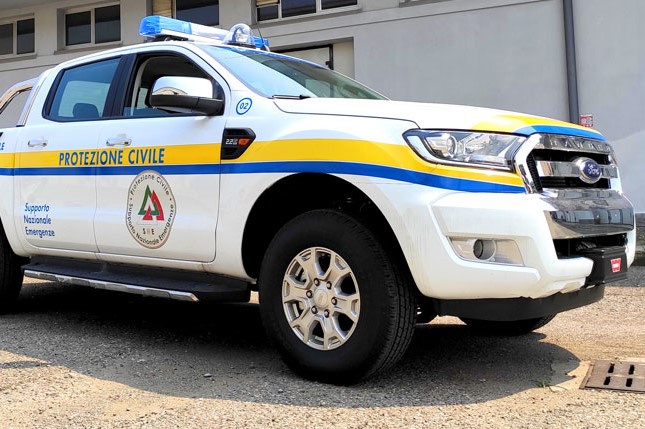 Civil Protection, which vehicles to prepare for hydro-geological emergencies?
In the event of a flood, it is necessary for the Civil Protection association to have a certain number of vehicles for this service, with specific equipment. Here is a "home-made" example after the flood experience in Parma
An initial departure for checking rivers, embankments and initial flood interventions must be simple, easy to use and complete with the correct equipment to perform a fundamental service.
Here is an example on a Fullback with extended cab set up by the Parma Red Cross for the Civil Protection unit
PARMA – Floods, landslides, fallen trees and flooding are the "daily bread" that Civil Protection associations fight against in autumn and winter, all over Italy. It is an extremely complex situation that requires the intervention of different types of volunteers for emergency operations, often coordinated by the Fire Brigade.
The means differ, however, if the intervention is to be carried out in an urban area, in a mountainous area or on the plain.
The constant is that when intervening in these situations, one must always be prepared, equipped and safe, without the risk of creating more problems than anything else.
This is why, when considering a vehicle for your Civil Defence association, it is not enough to stop at a 4×4 pickup truck.
Four-wheel drive is certainly a fundamental system, as are the winch and cabin space.
But these are not the only factors to be taken into account for an initial departure for hydro-geological risk
We followed the construction of one of these vehicles step by step, based on the specifications requested by a company that has had to deal with floods in urban areas and has had to learn very well that the fury of a small torrent can become devastating and put several hundred lives at risk.
We are talking about the Parma Red Cross, which has created a large network of Civil Protection volunteers for the city and the province, and has been able to build and follow step by step the construction of its "first start" for hydro-geological emergencies.
Today this association has 6 vehicles for Civil Protection activities, two PMAs, 3 specifically equipped trolleys and many volunteers ready to intervene in emergency operations.
But this vehicle struck us because it was designed months after the experience gained in the floods and in services in the province and urban area, and was created thanks to a close comparison with the Civil Protection of the province, as well as the traditional and fundamental hand of the citizens, who with their donations made it all possible.
Hydro-geological emergencies, the equipment base: all-wheel drive, always
The vehicle is a Fiat Fullback with four-wheel drive, 4-door extended cab and OPT differential for electronically selectable four-wheel drive, on which Carrozzeria Malpeli of Parma – which supported the project – has installed an ad hoc structure for transporting all the equipment needed in the event of a weather alert.
First of all, the rear body was fitted with a frame that can be opened on three sides, with reflective edges and warning lights at the most exposed points. The body was built with structural reinforcements so that the roof could become a viable support for installing a portable lighting tower, providing an even greater area of visibility.
Communication and visibility: lots of light where you need it
The first factor to take into account for these vehicles is connectivity and visibility.
The Fullback in this case is equipped with a pair of very simple service beacons, but these are coupled with a system of remotely controlled swinging beacons.
This means that if the vehicle has to be left far away from the scene of an inspection and the lights of the torches supplied to the volunteers are not sufficient, the beacon can always be moved in the necessary direction using a remote control.
The vehicle's lights have not been modified in any particular way, but it is the electrical and lighting systems of the body that have the edge.
In fact, all the compartments are equipped with service lights to give a better view of the internal electrical panel, the arrangement of equipment and all the stored material.
The service radio also has a portable loading console that can be placed in the container if additional equipment is needed.

About Hydro-geological emergencies: the vehicle does little, the team more
This type of vehicle is designed to give rescuers all the tools they need to be effective in a hydro-geological emergency.
Storage is provided in safety for two fire engines, fuel canisters, shears, tools for clearing roads of trees and branches, and of course space for personal protective equipment (including helmets, overalls, gaiters, gloves and spare parts).
In these situations it is also possible to have two generators, a small one and a static one, which provide greater flexibility in movement and planning of operations.
Moreover, on this vehicle, it is possible to install an anchored light tower with 4 lighting elements, which is really interesting if you work in complex environments.
The rationale behind the design of the vehicle for hydro-geological emergencies is that of team support, because in these cases the vehicle is really needed to get to the target and make as much equipment available as possible for as many operators as possible.
Flood emergency and post-flood support
When, on the other hand, the emergency involves the need to free roads, cellars or premises from water, following flooding that has already taken place, the Red Cross Fullback becomes a first level support thanks to the possibility of storing three first intervention motor pumps: a pinwheel device, a floating device and an immersion pump.
All of this with a few delivery hoses already in place, but to which it is possible to add, by attaching a trolley, everything needed for larger flooding emergencies requiring greater water pumping capacity.
Primary support for volunteers and the population
One of the new projects that the Red Cross is carrying out, however, concerns an aspect that is always little considered by emergency systems, namely support for the operators on duty.
For this reason, the Parma CRI has come up with interchangeable modules, so that in the event of a flood – which often takes a long time – there is also room for hot drinks and packaged food to provide minimal support to workers.
This idea was born out of the experience of emptying the flooded areas of Colorno and Parma, when volunteers were often on duty for more than 12 hours without the possibility of having a simple, basic refreshment of hot coffee and sandwiches.
The minimal equipment can support a maximum of 12/15 people, so even in cases of very first intervention, there is the possibility of comforting the frightened (and often cold) citizens who find themselves being rescued in areas where the water is creating problems.
What is needed in case of service?
The following list is a purely illustrative indication. Each provincial and regional Protezione Civile lists and indicates different types of needs depending on the equipment required in the event of a flood or hydro-geological risk
However, if you would like some small suggestions on what to install in the vehicle to make it more suitable for your needs, here is what may be useful:
Floodlight (remote-controlled)
Cab control unit for utilities
230v electrical panel in rear compartment
Minimum 5 kW electric generator
Minimum 1.5 kW portable electric generator
Covered hard-top body with cab wire height (walkable roof)
Analogue/digital radio with possibility of charging kit for personal devices
2 rechargeable torches
Lighting kit (2 light towers and cables)
Suction motor pump kit for urban environment (minimum flow 150 l/min)
Drainage pump (minimum flow 75 l/min)
Brushwood and tree kit (chainsaws and related PPE)
Logistic support kit (water and food)
Read Also:
China, Devastating Floods In Henan: At Least 25 Dead, 1,800 Firefighters And The Army In Action
Hurricane Ida, Rescuer's Body Cam Shows Woman's Heroic Rescue From Flooding
Source: