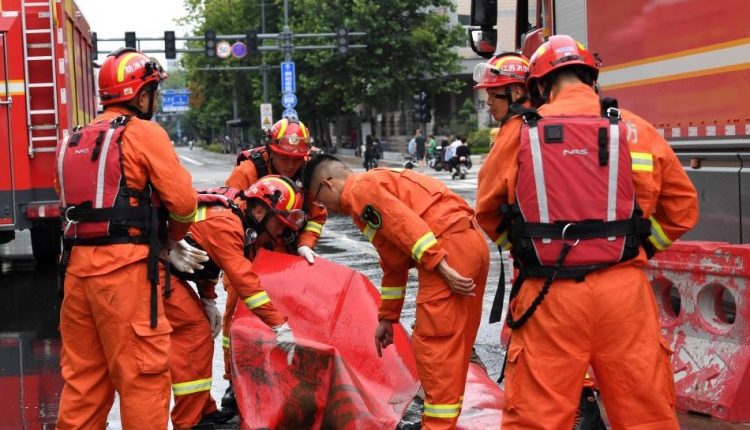 China, devastating floods in Henan: at least 25 dead, 1,800 firefighters and the Army in action
Devastating floods have hit Henan province (China): rainfall of at least 40 cm is being dealt with by 1,800 firefighters and the PLA, the Chinese People's Liberation Army
Floods in Henan province (China): rescuers manage the major emergency
Firefighters installed drainage pipes in Zhengzhou, capital of central China's Henan province.
Extremely heavy rainfall hit Henan on Tuesday, with precipitation in Zhengzhou exceeding the highest level in local weather records.
A rescue team of 1,800 firefighters was deployed to the flood-hit region from seven neighbouring provinces, along with boats, pumping vehicles and flood relief kits.
The Chinese People's Liberation Army (PLA), in addition to supporting the fire brigade's operations with its own vehicles and men, is also carrying out evacuations: more than 160,000 people have been removed from the danger zones and made safe.

Floods in Henan: 25 people killed
At the moment, there are 25 confirmed victims and 7 missing.
Unfortunately, however, the toll will have to be updated, although as always it is important to wait for official communications from the authorities.
Rainfall has so far poured down unprecedented levels of 449mm of water in Zhengzhou, from 6pm on Sunday until midnight on Tuesday, causing more than 160 trains to be blocked with serious consequences for local transport.

The Ministry of Emergency Management has sent a working group to the affected areas of Henan to help local authorities with disaster relief operations.
Fear for a dam: risk of collapse
The Chinese army has warned that a dam in the centre of the country "could collapse at any moment", in addition to the two that collapsed in Inner Mongolia a few days ago without causing serious damage, after being damaged by torrential storms that killed at least three people.
On Tuesday evening, the regional unit of the People's Liberation Army (Pla) explained that a 20-metre breach had formed in the Yihetan dam in Luoyang, a city of about seven million people also in Henan, with the risk "of collapse at any moment".
Pla's central theatre command said it had sent soldiers to carry out an emergency response, including explosions and flood diversions.
Read Also:
Disaster Manager, The Future Is In The Information Networking, And In A Command Line Always "Open"
Managing Maxi Civil Protection Emergencies: Seraman At Emergency Expo
Rain And Flooding In Europe: 42 Dead And 70 Missing In Germany
Source: