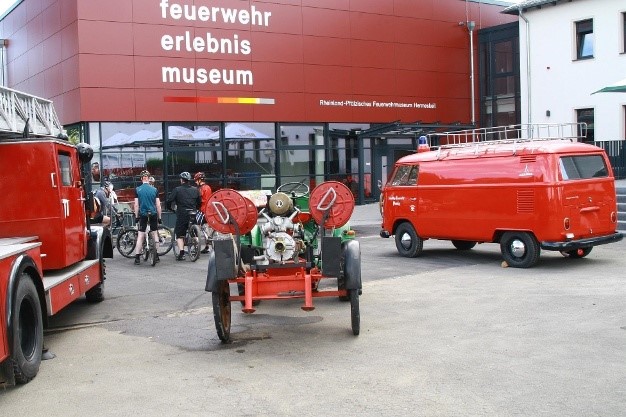 Emergency Museum, Germany: Firefighters, the Rheine-Palatine Feuerwehrmuseum
Firefighters in Germany: on April 17 1999, the "Feuerpatsche" Hermeskeil fire brigade museum was made official after nearly 5 years of construction work. The road to the official opening took almost 10 years and was not always easy
Germany: Firefighters, the Feuerwehrmuseum in Rheine-Palatinate
In the autumn of 1990, the fire brigade received a TLF 15/48 Magirus from 1950 as a donation, which was in service until 1961 and which was then sold to another department.
In early December 1990, they began working on this vehicle by completely restoring it and presenting it to visitors.
In the summer of 1991, a gathering of vintage fire brigade vehicles from all over Germany took place in Dibbersen, near Hamburg.
The idea of ​​creating a real Fire Brigade Museum was born from this meeting.
In addition, the free space in the Hermeskeiler Fire Station decreased more and more due to the new acquisitions and therefore the vehicles and old equipment that were still stored there needed a new home.
The restoration and conversion work of the building identified as the new headquarters begun immediately. At the same time other pumps and devices were also restored, for example an old LLG LF 8, a vehicle that entered service in Hermeskeil in 1943.
SPECIAL VEHICLES FOR FIREFIGHTERS: VISIT THE ALLISON STAND AT EMERGENCY EXPO
Germany, Firefighters Museum: in 1999 the museum was officially opened with the name "Feuerpatsche"
Ernst Blasius, first director of the Feuerwehrmuseum, said that he took inspiration for the name from the old firefighter shoes that were found in 1978 when the firehouse was moved to the new building.
At the time they were almost thrown away, but fortunately they were preserved and now they've found a permanent home inside the museum.

Gradually, the museum's collection grew and more and more devices from all over Germany and the rest of the world were exhibited and presented to the visitors.
In the fall of 2006, the museum suffered a sudden shutdown. After 16 years of operation, the museum had to be closed due to new fire regulations.
Despite the initial pain of this loss, the management and volunteers immediately started identifying a new place that could contain the Feuerwehrmuseum.
FITTING OUT SPECIAL VEHICLES FOR FIRE BRIGADES: DISCOVER THE PROSPEED STAND AT EMERGENCY EXPO
Read Also:
Italy, The National Firefighters Historical Gallery
Emergency Museum, France: The Origins Of The Paris Sapeurs-Pompiers Regiment
Source:
Feuerwehr Erlebnis Museum; Outdooractive;
Link:
https://www.feuerwehr-erlebnis-museum.de/
https://www.outdooractive.com/de/poi/hunsrueck/feuerwehr-erlebnis-museum/2797615/