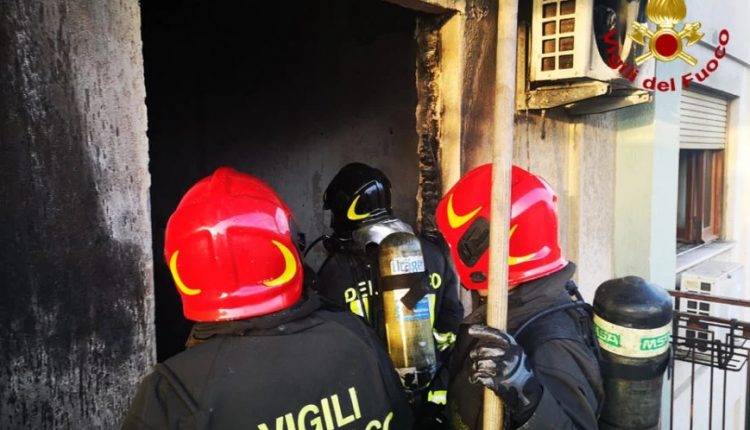 Fire brigade / Arson attack in Modena after an argument: 21 injured, two in serious condition
Modena fire brigade called for a major intervention: the flames broke out last night in a building in via Emilia Ovest: among the people immediately transported to the three local hospitals was a two-year-old girl, who had been intoxicated by the smoke
An arson attack, apparently linked to a dispute between residents, broke out last night around one o'clock in a building in Modena, and caused the health workers to spend an eventful night, to say the least
Twenty-one people, including adults and a minor, were injured in the fire that broke out in the building: nine were taken to the Policlinico, six to the Baggiovara civil hospital and six to the Sassuolo hospital.
Six Modena Soccorso vehicles were also used alongside the fire brigade and the police.
Of the 9 injured people treated at the Policlinico, the most serious were two males aged 21 and 29: they were transported by helicopter from Bologna, one to the large burns centre in Parma and one to that of Verona.
Seven other people were also found to have slight intoxication caused by smoke from the fire: three males, aged 34, 27 and 36, and four females, aged 38, 29, 28 and 2.
All were discharged.
The six patients taken to the Civil Hospital have also been discharged: they are 4 males (25, 35, 52, 66 years old) and 2 females (37 and 43 years old), who suffered from mild monoxide poisoning, as the hospital continues in its bulletin.
The six patients brought to Sassuolo, four men and two women, who also escaped with minor intoxications, were all discharged.

Arson, comment from the director of the emergency department
It was a great team effort," comments Dr. Stefano Toscani, director of the inter-company Emergency-Urgency department, "which allowed us to manage a large number of patients in a short time.
Thanks to the Hub and Spoke organisation of the department, through a 118 coordinator on site and according to our protocol that establishes the hourly management capacity of each provincial emergency department, we distributed the patients to the emergency rooms closest to the event, guaranteeing timeliness and efficiency and avoiding concentrating them in a single hospital.
The regional helicopter rescue service completed the management," Toscani points out, "by providing resuscitation support in the long-distance transport of particularly serious cases.
Read Also:
Mental And Physical Preparedness Of Firefighters: A Study On Resilience And Occupational Risk
Robotic Technologies In Forest Firefighting: Study On Drone Swarms For Fire Brigade Efficiency And Safety
Source: