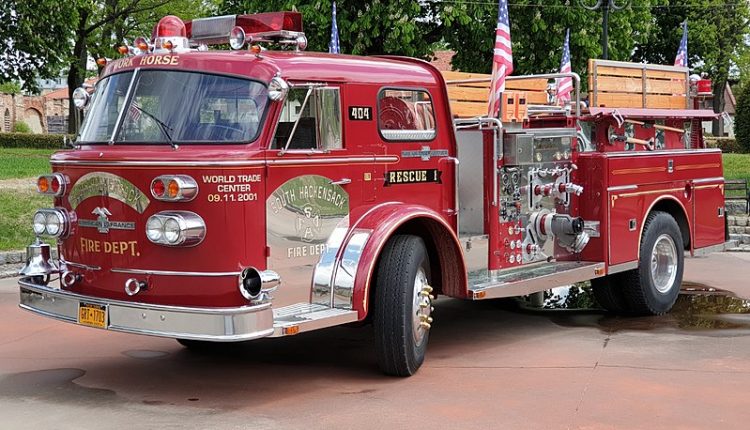 Firefighters, history of American-LaFrance Fire Engines Co
History of American-LaFrance Fire Engines Co: considered by many the greatest name in the history of american firefighters apparatus, we can say that American-LaFrance had the biggest influence on the design of the modern fire apparatus that we can admire today in the USA
The story of American-LaFrance began around 1832, when John F. Rogers began building hand-tub fire engines in Waterford, New York
In 1834 Lysander Button purchased Rogers' business and eventually Button merged into the American Fire Engine Company in 1891.
In the early 1860's, Truckson LaFrance traveled from Pennsylva­nia to Elmira, New York looking for employment.
He got a job at the Elmira Union Iron Works.
It was while he was employed here that he first became interested in steam engines.
In the 1870's LaFrance obtained several patents on improvements he developed in the rotary steam engine.
John Vischer, head of the Iron Works, became interested and was convinced by LaFrance to back him in the manufacture of a steam fire engine.
They subsequently formed a business partnership to manufacture fire apparatus.
In 1900 the American Fire Engine Company and the LaFrance Fire Engine Company both became part of the International Fire Engine Company and later when the International Fire Engine Company went bankrupt in 1903, the American-LaFrance Fire Engine Company, Ltd., of Elmira, New York, emerged in as its corporate successor.

After a few years of experimentation, American-LaFrance started production of motorized fire apparatus in 1910
In those years, American-LaFrance quickly developed a full product line that included pumpers, ladder trucks and a variety of specialized apparatus.
In 1927, the company acquired O.J. Childs Co. of Utica, New York, which had developed Foamite, a new type of chemical foam fire suppression system.
The firm was thereafter known as American-LaFrance–Foamite Corporation, until 1955.
After World War Two, American-LaFrance introduced its most iconic product, the 700 Series. The 700 Series featured a true cab-forward design with a beautiful curved face.
FIRE BRIGADE, VISIT THE FLIR BOOTH
The cab-forward design had significantly better visibility and better maneuverability than conventional engine-ahead designs and virtually all of today's custom-chassis fire apparatus is of the same game-changing configuration the 700 series pioneered more than 60 years ago.
Over the next decade, other companies followed the lead of American-LaFrance and started to build their own cab-forward apparatus. In 1955, American-LaFrance dropped the hyphen from the corporate name.
In 1985 the company left New York and production was moved to Virginia.
Here the company operated under a few different corporate owners over the next three decades.
During this time sales and market share steadily declined until jenuary 2014 when, after more than 100 years in business, American LaFrance sadly announced it was going out of business, ending its long history as one of the greatest Fire Apparatus manufacturer in the United States.

READ ALSO:
The Hall Of Flame Museum, The Largest Museum Dedicated To Firefighters In The United States And The World
Special Vehicles For Firefighters: The Story Of Frederick Seagrave
Emergency Museum, A History Pill: The Firefighter Bicycle
A Bit Of History: The Constantinople Ambulance Station
SOURCES:
Spaamfaa.org ; Fireengineering.com ; Coachbuilt.com
LINKS:
https://www.fireengineering.com/leadership/farewell-to-american-lafrance/#gref
https://spaamfaa.org/encyclopedia-american-lafrance/
http://www.coachbuilt.com/bui/a/american_lafrance/american_lafrance.htm