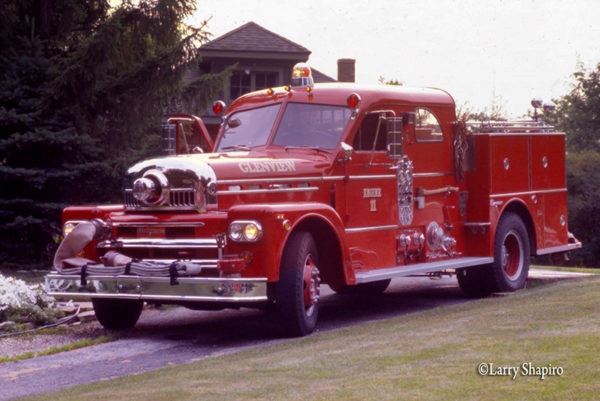 Special vehicles for firefighters: the story of Frederick Seagrave
Frederick Seagrave started his business building and selling robust wooden ladders made for professionists of any kind, until one day he realised that his ladders could be used for fire fighting and rescuing people in dangerous situations as well.
After this realisation he changed his company specialization on building ladders for fire apparatus, and than during the first decade of the 20th century the company made the first examples of its own fire engines.
A piece of history to celebrate 70 years of the company founded by Frederick Seagrave
This particular truck we are talking about came out in 1950 and its so important because it marks the 70th annyversary since Mr. Seagrave started his company.
This fire truck was powerd by a V12 engine with dual ignition, dual distributors and dual sparkblocks; the reason for this is so that when the truck was in service at a fire and pumping water at full power it would not risk to die and not be able to sustain its engine capabilities.
Read Also: Visit the Flir stand at Emergency Expo
The engines of this kind were capable of pumping around 3700 liters of water per minute but the company made also a smaller (around 2800 liters per minute) and a bigger (around 5600 liters per minute) version.
They also made a version of the truck that would carry ladders that was very popular in smaller cities that needed a more agile truck and did not need to reach really high altitudes since the building in their area where only 2 or 3 stories high; while in the big cities, they needed trucks loaded with aerial ladders capable of reaching higher altitudes.
Read Also: Visita lo stand di Rescue Protech in Emergency Expo
Expecially popular in the East and Mid Western areas of the United States of America, it was painted in red but also different colors such as white and red, all white, yellow and a few were made in a blue coloration as well.
The Seagrave 70th Anniversary last model was sold in 1970 and this makes it one of the fire engines with the longest production in the USA.
Read Also:
The Hall Of Flame Museum, The Largest Museum Dedicated To Firefighters In The United States And The World
9 July 1937: The Little Ferry Firefighters Intervetion During The Famous Vault Fire At 20 Century-Fox Storage
Firefighters – Civil Protection In North Rhine-Westphalia (Germany): Federal State Opts For MAN TGM With Allison Fully Automatic Transmission
Chernobyl, Remembering Brave Firefighters And Forgotten Heroes
Firefighters And Volunteers, The Real Heroes Of The Chernobyl Disaster
SOURCE: