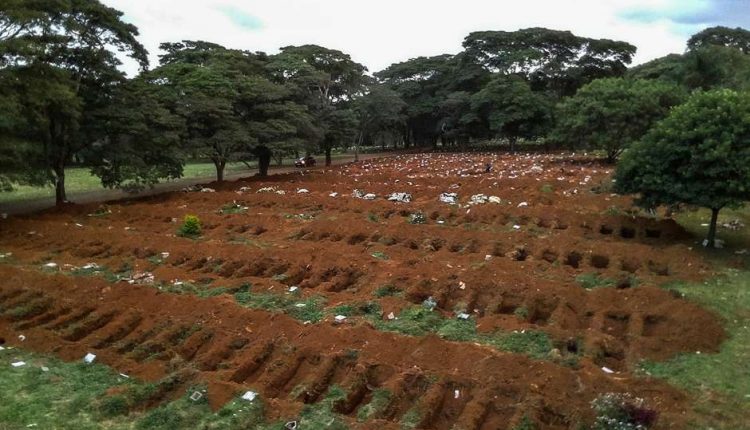 Brazil surpasses the 500,000 death mark by Covid-19
On Saturday, the 19th, Brazil surpassed the mark of 500,000 killed by Covid-19
Brazil is the second country in the world with the highest number of victims of Covid-19, behind only the United States, which register 601,574 deaths, according to data from the Johns Hopkins University
The country exceeded half a million deaths 50 days after reaching the 400,000 mark and about 15 months after the confirmation of the first death from the disease. 2,073 deaths were registered on average in the last seven days, which indicates an acceleration of 27% compared to 14 days ago.
The index is above 1,000 daily deaths for 150 days. During the first wave, the record time that the moving average was above a thousand was 31 days.
Of the 27 Brazilian states, eleven are on the rise in deaths. Thirteen are stable and three states show a drop in the number of deaths.
Another important issue is vaccination.
To reach the predicted vaccination coverage of 90%, the country would still need to apply 237 million doses to complete the goal.
To reach this number, it would be necessary to apply 1 million doses per day, until the rest of the year.
Brazil, however, vaccinated 1 million in 24 hours just 25 times. If the country continues at its current rate of vaccination, the goal would only be reached in 2022. 100 million Brazilians over 18 are still waiting to be vaccinated with the 1st dose, and another 29 million immunized people have not yet received the 2nd dose.

The Minister of Health, Marcelo Queiroga, spoke about the number of deaths in the pandemic in the country.
"500,000 lives lost by the pandemic that affects our Brazil and the whole world.
I work tirelessly to vaccinate all Brazilians in the shortest time possible and change this scenario that has plagued us for over a year," says the text published on Twitter.
President Jair Bolsonaro did not comment on the 500,000 death mark by Covid-19.
Read Also:
Brazil Has First Confirmed Cases Of India Variant
Brazil, Covid Situation Improves. Butantan Institute: CoronaVac Vaccine Leads To Drop In Hospital Admissions
Source: