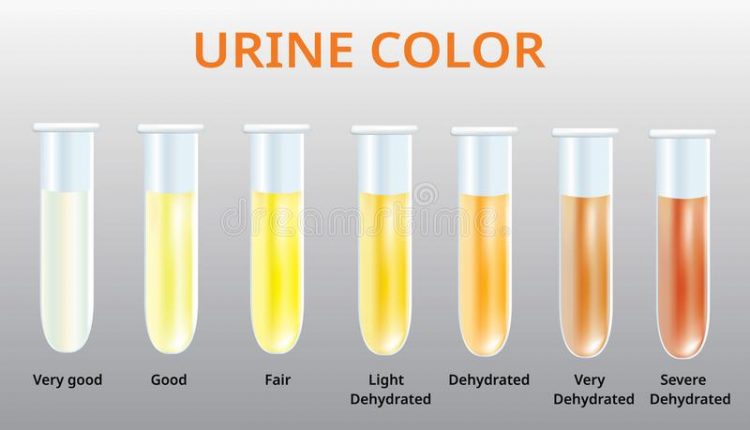 Pee colour: causes, diagnosis and when to worry if your urine is dark
Is the colour of pee something to worry about? Urine is the end product of the filtration and secretion work of the kidney
It is through the kidney that the blood is 'cleansed' of numerous waste and toxic substances produced by the body, which together with water go to form urine.
Freshly emitted urine appears as a yellowish liquid, a colour conferred by the presence of a specific pigment, urochrome; in addition to this, urine physiologically contains other substances such as nitrogen, urea and creatinine.
Depending on the amount present, urine, pee, can take on a colour:
Lighter (by drinking a lot of water, the substances mentioned are diluted)
Darker (the substances are concentrated and the urine becomes darker)
Most of the time, dark urine is due to simple physiological causes such as severe dehydration following profuse sweating, or the presence of certain pigments taken in through food.
In other cases, however, the colour of pee is a symptom that can be a sign of a pathological condition, such as
Jaundice
Presence of blood in the urine
Kidney disease
Liver disease
With the support of the doctor, it is possible to start a diagnostic procedure by performing
BLOOD TESTS
URINE TESTS
AND INSTRUMENTAL EXAMINATIONS,
with the aim of identifying the underlying cause, the resolution of which will allow a normal urine colour to be restored.
Causes of dark pee colour
Among the various possible causes of dark urine are physiological and pathological causes.
Physiological causes
The darker colour of urine in these cases is simply due to the increased concentration of physiological substances, such as urochrome, or the presence of certain non-pathological pigments present in certain foods or drugs.
The main causes are:
Very dry diet, rich in fibre and low fluid intake (1 litre per day)
Abundant sweating
Taking certain drugs or foods
Particular conditions of dark urine can occur in the morning as soon as you wake up: in such a case, do not be alarmed, as during the night, as the body does not supply water, temporary dehydration occurs with a higher concentration of urine.
Another particular condition is pregnancy: here, too, dark urine is almost always a consequence of the fact that the pregnant woman does not properly increase her fluid intake required during pregnancy; here, too, it is a simple para-physiological dehydration.
In all these cases, an increased intake of water will be sufficient to make the urine regress to its normal colour, or wait for the hyperchromic substances from certain foods or drugs to be disposed of.
Pathological causes
The most common disease conditions that can darken the colour of urine include the possible presence of
HAEMOGLOBIN (SUBSTANCE CONTAINED IN RED BLOOD CELLS)
MYOGLOBIN (SUBSTANCE CONTAINED IN MUSCLE FIBRES)
BILIRUBIN (SUBSTANCE CONTAINED IN BILE)
MELANIN (PIGMENT RESPONSIBLE FOR THE DARKER OR DARKER COLOURING OF THE SKIN)
A dark red colour may be due to the presence of red blood cells or haemoglobin; by analysing the urine sediment it is possible to find out whether it is
HAEMATURIA (PRESENCE OF RED BLOOD CELLS IN THE URINE)
OR HAEMOGLOBINURIA (PRESENCE OF HAEMOGLOBIN IN THE URINE).
The colour tone of the urine in these cases becomes dark-red and in medical jargon is referred to as 'coke-coloured' or 'flesh-coloured' urine.
A burgundy-red colour is found in the case of porfinuria, a condition due to the presence of the pigment porphyrin in urine, which is found in rare diseases, especially genetic ones, involving the alteration of enzymes involved in haemoglobin synthesis.

Marsala-coloured urine is due to the presence of urobilin; this pigment accumulates in pee in the case of:
Acute infectious diseases, such as pneumonia
Liver failure
Haemolytic anaemias
A frankly blackish colour occurs in cases of haemosiderinuria (presence of haemosiderin in the urine, itself due to haemolytic anaemia) or more rarely in cases of melanoma (with melanin accumulation in the urine).
Urine may appear cloudy in case of urinary tract infection, due to the presence of leucocytes (white blood cells) in the urine, in which case other symptoms may be associated such as
Burning
Difficulty urinating
Bad smell
Colour of pee and causes:
(A) RED OR PINK URINE:
Despite its alarming appearance, not all causes are really worrying, and examples include:
BLOOD (URINARY TRACT INFECTIONS, ENLARGED PROSTATE, KIDNEY STONES, TUMOURS, KIDNEY CYSTS, …)
FOODS (BEETS, BERRIES, RHUBARB, …),
DRUGS (RIFAMPICIN, …),
(B) ORANGE URINE:
DEHYDRATION,
PATHOLOGICAL LIVER CONDITIONS,
FOODS (PUMPKIN, CARROTS, …),
DRUGS,
C) BLUE OR GREEN URINE:
INFECTIONS OF THE GENITO-URINARY TRACT,
FOOD DYES,
DRUGS (INDOMETHACIN, …),
BROWN URINE (COKE-COLOURED):
FOODS (FAVA BEANS, RHUBARB, …),
EXCESSIVE EXERCISE,
LIVER DISORDERS, URINARY SYSTEM DISORDERS,
MEDICATION (E.G. SOME ANTIMALARIALS, SOME ANTIBIOTICS, …),
(D) CLOUDY URINE:
URINARY TRACT INFECTIONS, SUCH AS CYSTITIS, AND KIDNEY STONES.
DIAGNOSIS
Once the presence of dark urine has been detected, it is obviously necessary to trace the cause, first of all differentiating between physiological and pathological causes; the doctor, in addition to anamnesis and objective examination, may request the performance of some specific diagnostic tests such as
Urinary sediment analysis
Urine culture
Standard urine examination
The result of these tests allows one to orientate oneself on the possible cause of dark urine and to continue the diagnostic course with second-level tests:
Blood test
Ultrasound
CT or MRI scan
Read Also:
Emergency Live Even More…Live: Download The New Free App Of Your Newspaper For IOS And Android
Colour Changes In The Urine: When To Consult A Doctor
Paediatric Urinary Calculus: What It Is, How To Treat It
High Leukocytes In The Urine: When To Worry?
The Colour Of Pee: What Does Urine Tell Us About Our Health?
Source: