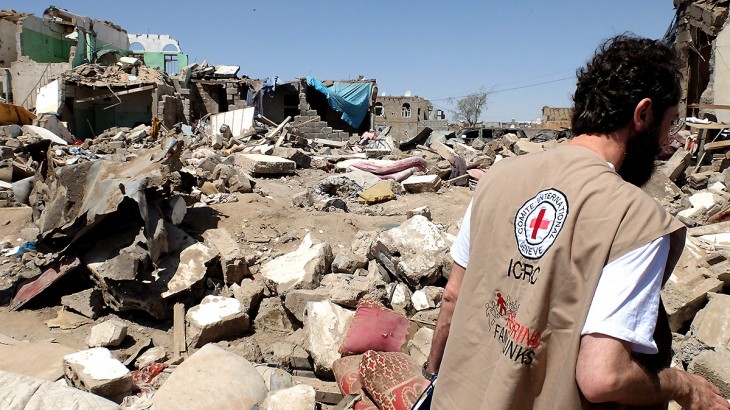 ICRC - Serious humanitarian crisis in Yemen because of war
Shortage of food,  no shelters, water is scarse and not clean, children close to famine. This is Yemen
The International Commetee of Red Cross reports that the conflict inside the state caused many people flee and provoked the world's largest humanitarian crisis. In a camp for displaced persons, mothers struggle to provide their families with food. Often the daily meal is a single flat bread, shared between four people. On another day, perhaps the meal will only be boiled leaves. The fact that millions of Yemenis are displaced, that food is scarce, that children are close to famine, all this is a consequence of the war.
Thousands of families have no shelter and children are sick. They suffer from shortage of food, medicine and lack of healthcare in addition to lack of water. These people are eating leaves. Cities' buildings collapsed, the hospitals are not only short of vital life-saving medicines and equipment. Despite this tragic situation, the war carries on incresing deaths.
From the International Commetee of Red Cross the information that arrive is the same: the entire country is on the brink of famine and people die. Whatever quarrel states or armed groups may have, no child should die of hunger because of that quarrel, no hospital should be destroyed, no water supplies should be cut. Yemen urgently needs a political solution, and peace. But before we talk about peace we must talk about war, and specifically how this war is being conducted.
the only way is to reach a sustainable resolution because people in Yemen cannot wait anymore. Things parties must do should be: spare civilians, spare civilian infrastructure like hospitals and schools, keep the necessary distance from civilian infrastructure to avoid making these a military target, allow civilians to flee areas of combat, and allow free movement of goods like food and medicine and continue to facilitate humanitarian action inside the country.
Relief solutions must be taken now to help people standing for their life, family and country too.