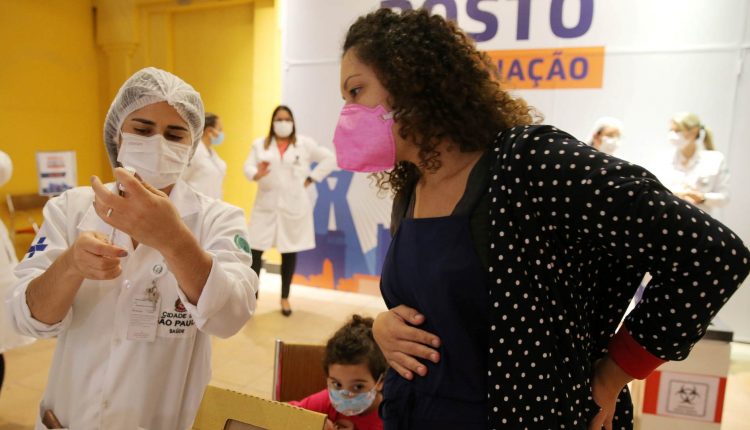 WHO urges those who are pregnant or breastfeeding to get COVID-19 vaccine
There is "no reason" that someone who is pregnant or breastfeeding shouldn't get vaccinated, according to the World Health Organization (WHO), in the latest push to get more people jabbed
"We recommend that if you're a pregnant woman, there's no reason why you can't get vaccinated with the vaccines that have been emergency listed," said Kate O'Brien, WHO's immunization director
"And there is no reason why breastfeeding women could not be vaccinated. There's nothing that is going to happen in terms of the baby or in terms of your own health," she added.
Pregnancy puts a lot of stress on the body, and the WHO is not the only organization encouraging this vulnerable population to get vaccinated.
England's top midwife urged people on July 30 to get the jab after data showed that no one who was both pregnant and fully vaccinated has been admitted to the hospital because of COVID-19 in England.
And only three women were admitted for COVID-19 symptoms after having just one jab.
However, according to UK Obstetric Surveillance System, the number of pregnant women admitted to the hospital because of COVID-19 is increasing
And once admitted, around 15 percent will require intensive care, 33 percent will require additional respiratory support, 37 percent will develop pneumonia.
"COVID-19 puts you at greater risk, and that's probably more true later in pregnancy when you've got a big belly, and your lung capacity is reduced just because of the volume that you're carrying around," O'Brien said.
"That's the reason we're particularly interested in vaccination in pregnancy."

Despite this need, several countries banned this population from getting vaccinated until very recently.
On July 2, the Indian government started to allow pregnant women to get vaccinated after a spike in cases, during which several pregnant doctors and nurses died from COVID-19.
They were not previously able to get vaccinated even though they worked in a high-risk environment, with health officials citing a lack of data on the effect of the vaccine on pregnancy.
However, recent data shows that it is safe for a person to get vaccinated if pregnant. The U.S. Centers for Disease Control and Prevention is tracking pregnant people after getting their vaccinations, and to date, more than 130,000 have been safely vaccinated.
In the UK, more than 55,000 pregnant people have been given at least one jab.
Read Also:
COVID-19 And Pregnancy, A New Study On 1,471 Women And Newborns From The University Of Pennsylvania
Pregnancy: What Happens To Your Hair During And After Giving Birth? Expert Answers
The Apparent Paradox Of Covid-19 Positive Vaccinees: A Story Of Statistical Deception
Source: