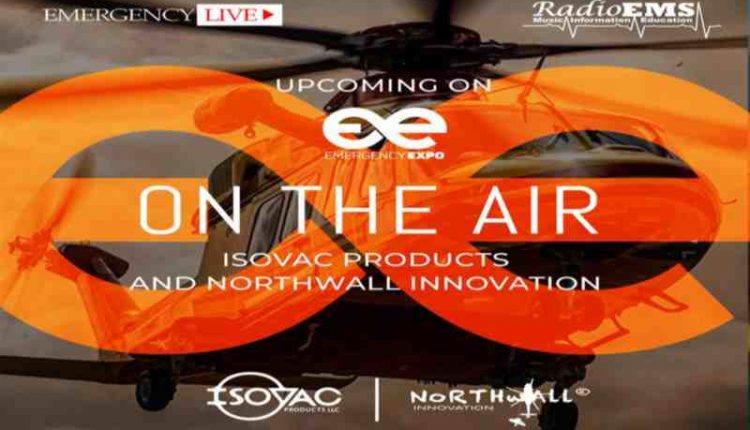 Here we go! Today Emergency Expo "On the Air" starts: here is today's programme
Emergency Expo On The Air, the eagerly awaited "live radio" programme of Emergency Expo starts today at 4 p.m. Italian time
Where? Live on Radio EMS and in the virtual stands of the first two protagonists of the show: ISOVAC Products LLC and Northwall Innovation.
The day of Emergency Expo "On the Air" has therefore arrived, with a very interesting interview linked to extremely topical issues
While the heart of the topic will be the HEMS sector, where Isovac Products and Northwall Innovation are undoubtedly two major players, it will be a pleasure to hear Peter Jenkner, CEO of the US company, explain the characteristics of the Isovac bio-containment stretcher and its importance in the Covid-19 era, both for rescuers and for patients themselves.
WOULD YOU LIKE TO VISIT THE ISOVAC BOOTH AT EMERGENCY EXPO? CLICK ON THIS LINK
All this will be possible, and this is the great strength of Emergency Expo "On the Air", by viewing the product in 3D in Isovac's virtual booth, while the company tells you about it live on RadioEMS
But the attractions don't end there.
Nicola Campani, Northwall Innovation, has joined the meeting with great pleasure, contributing with his decades of experience to illustrate the major criticalities that, today, an important and delicate sector such as HEMS must face and which technological solutions his company has developed to deal with them.
It will be interesting and fun to explore them with your words.
The appointment is today at 4 pm, Italian time, to listen to the first episode of "Emergency Expo on the Air", the only international radio programme where producers and rescuers meet to discuss the future of Emergency and Rescue together.
An idea by Emergency Live and RadioEMS, because a virtual fair can reach everywhere, telling its story through its products and its protagonists.

Appointment today at 4 o'clock then, on Radio EMS and at the Isovac Products and Nortwall Innovation stands of Emergency Expo!
Stay tuned!
DO YOU WANT TO LISTEN TO RADIOEMS? CLICK HERE!!!
Read Also:
Emergency EXPO "On AIR", The New Radio Programme Dedicated To Rescue And Emergency, Arrives
RadioEMS, The Point Of Reference For Emergency And Rescue Workers: Music, Information, In-Depth Analysis At Emergency Expo
Chemical/Biological/Radioactive Insulation, The Excellence Of ISOVAC Products On The Emergency Expo Stand
Source: