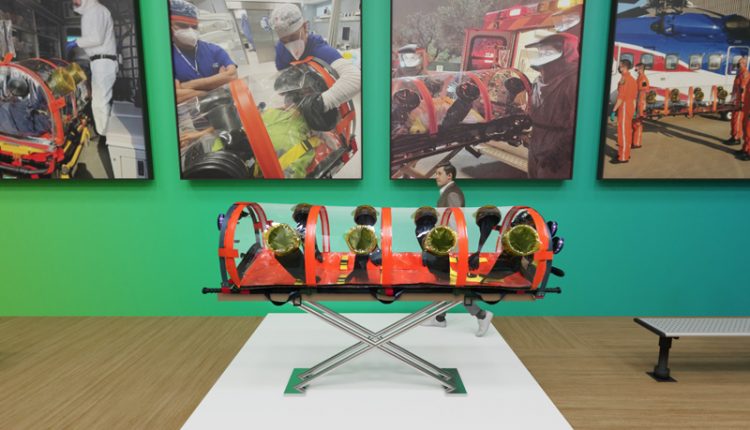 Chemical/biological/radioactive insulation, the excellence of ISOVAC products on the Emergency Expo stand
ISOVAC is a company known and loved by Italian rescuers: a considerable part of the bio-containment stretchers that have allowed the medical transport of Covid patients in the last year are equipped with its supports. ISOVAC has chosen Emergency Expo to show to the Italian audience its most innovative projects and innovations
In Emergency Expo, the 3D virtual and always online exhibition, the visitor will go deeper in his knowledge about ISOVAC products and get in touch with the company's experts to ask questions and get information.

ISOVAC at Emergency Expo, here is what you will find:
Founded in 1999, ISOVAC has designed, developed, commercialized, and currently manufactures products that provide Chemical / Biological / Radiological (CBR) isolation, containment and protection of personnel, casualties, remains, equipment, and transport assets.
These products are designed to mitigate the risks and adverse effects of CBR warfare and terrorist attacks, viral outbreaks (e.g., COVID-19, H5N1, SARS, Ebola, etc.), industrial accidents, and natural disasters.
ISOVAC's primary markets include all branches of the U.S. Department of Defense as well as those of NATO (North Atlantic Treaty Organization) countries. Major non-military U. S. markets include the Department of Homeland Security (DHS), the Federal Emergency Management Agency (FEMA), and their state, regional, and municipal counterparts. Additional and more dispersed markets include both domestic and international commercial users such as hospitals, local emergency first response units, and fire departments.
WOULD YOU LIKE TO VISIT THE ISOVAC STAND AT EMERGENCY EXPO? CLICK ON THIS LINK

The ISOVAC biocontainment stretcher? You will find it at Emergency Expo:
CAPSULS™ is a portable patient isolation unit (PIU) which prevents particulate (biological and radiological) cross-contamination between the patient and the external environment. This unit includes features that enable medical intervention to the patient via end-user supplied medical equipment. CAPSULS™ is intended to be used in the:
• Transportation and isolation of patients on aircraft, ambulances, ships, and any vehicle capable of safely relocating a patient on a standard litter.
• Temporary isolation with or without transport of patients within hospitals or other medical facilities.
Isovac represents the top of the biocontainment stretcher industry, and CAPSULS™ has become a real lifeline for Italian rescuers during the darkest periods of the Covid-19 pandemic.

Read Also:
Chemical Injury: The Hidden Risks In Emergency Response
Ambulance Fitters: Did You Visit The Mariani Fratelli Stand At Emergency Expo?
Biocaremedic Is Born, PPE Of All-Italian Excellence: Visit Their Stand At Emergency Expo
Defibrillators, Ventilators, Mechanical CPR: What Surprises Will We Find In The Zoll Booth In Emergency Expo?
Outfitting Of Ambulances, Disabled Transport And Special Vehicles: EDM Joins Emergency Expo
Outfitting Of Ambulances, Disabled Transport And Special Vehicles: EDM Joins Emergency Expo
Ambulances, Vehicles For The Transport Of The Disabled And For Civil Protection, Pure Health: The Orion's Stand At Emergency Expo
Source:
Emergency Expo – official website