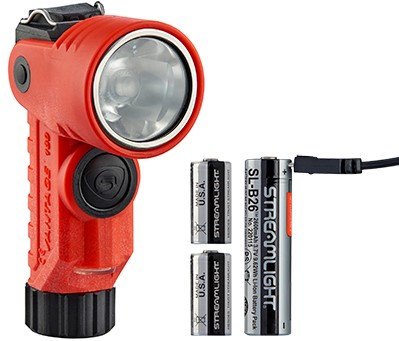 Streamlight® Launches Vantage® 180 X USB, Multi-Function light uses SL-B26 USB battery that reinvents rechargeability
Streamlight®, Inc., a leading provider of high-performance lighting for firefighting uses, launched the Vantage® 180 X USB rechargeable system
The light, which can be mounted to full-brim fire helmets, and also used as a handheld or right-angle light, comes with a Streamlight SL-B26 USB rechargeable lithium ion battery with an integrated micro USB port and a charge cord. A Vantage® 180 X model with two CR123A batteries is also available.
VISIT STREAMLIGHT'S BOOTH AT EMERGENCY EXPO
The multi-function light Streamlight® securely attaches to helmets by means of an integrated stainless steel clip, designed for a variety of attachment methods and mounting positions
The "quick release" helmet bracket allows for easy detachment of the light from helmets, so that it can be used as a handheld or pocket light, or hooked to turnout gear.
Featuring a main beam that delivers up to 250 lumens, the light's 180-degree rotating head automatically changes an ultra-bright blue safety taillight to a white safety flood down light when the head is set at a 90-degree angle.
"The Vantage 180 X USB gives firefighters and other first responders a truly compact and versatile tool for operating in smoke-filled or extremely low light conditions, with flexible battery options for every situation," said Streamlight Vice President, Sales and Marketing, Michael F. Dineen.
"Users can charge the light's SL-B26 lithium ion battery from any USB source, transforming it into a rechargeable system.
Or they can use disposable cell batteries when a power source is not immediately available."
Using either battery source, the Vantage 180 X USB provides 250 lumens, 7,200 candela peak beam intensity, and a 170-meter beam distance on the high setting.
Run times range from 4-15 hours, depending on battery source and light mode.
The light features a custom optic to provide a narrow beam with optimum peripheral illumination to aid in navigation.
It is operated by using a body-mounted, push-button switch that allows for one-handed constant "on" operation.
Measuring 5.2 ounces high, the Vantage 180 X USB weighs 5.5 ounces using CR123A batteries and 5.9 ounces with a Streamlight SL-B26 USB rechargeable battery.
It features a body constructed of high-impact, super-tough nylon, chemically resistant engineered polymer for exceptional durability and a sure grip.
Featuring an IPX7 rated design for waterproof operation to one meter for 30 minutes, the light is also one-meter impact resistance-tested.

Streamlight®, Product Features:
Lumens: High: 250 lumens; Low: 100 Lumens
Battery: Uses one Streamlight SL-B26™ protected Li-Ion rechargeable USB battery pack; also accepts two CR123A lithium batteries
Size: 5.20" (13.20cm)
Weight: 5.5oz. (156g)
Colour: Orange or Black
The Vantage 180 X USB and the Vantage 180 X are available in safety orange with black tail cap and trim or all black. They have MSRPs of £108.48 and £93.89, respectively. Both come with Streamlight's Limited Lifetime Warranty.
About Streamlight®
Based in Eagleville, PA, USA, Streamlight® Inc. has more than 45 years of experience making tough, durable, long-lasting torches designed to serve the specialised needs of professionals and consumers alike.
Since 1973, the company has designed, manufactured and marketed high-performance flashlights, and today offers a broad array of lights, lanterns, weapon light/laser sighting devices, and scene lighting tools for professional law enforcement, military, firefighting, industrial, automotive, and outdoor applications.
Streamlight® is an ISO 9001:2015 certified company.
For additional information, visit streamlight.com or connect with us on facebook.com/streamlightUK; twitter.com/StreamlightUK and instagram.com/streamlight_europe
*Prices are based on current exchange rates and are correct at time of print.
Read Also:
Emergency Scenarios, Operations In Low Visibility Conditions: Discover Streamlight At Emergency Expo
New York, Mount Sinai Researchers Publish Study On Liver Disease In World Trade Center Rescuers
Emergency Museum / Germany, The Berlin Feuerwerhmuseum
Source: