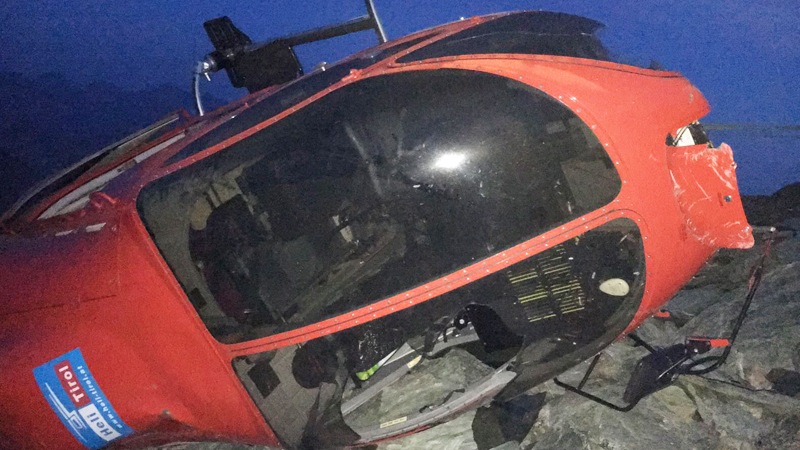 FOOTAGE - A Rescue Helicopter crashed into Glossglockner mountain, Austria
There are no casualties reported. The incredible video taken from a tourist show the helicopter tilting moments and crash
LIENZ, AUSTRIA – During a rescue an MD902 Explorer Helicopter crash in the Austria's Highest Mountain, the Glossglockner. The incident did not have dramatic consequences. The rescue helicopter, which wanted to fly a patient from a shelter to the hospital, tipped to the side after the start. The accident occurred at 8:15 pm in the Großglockner area. The rescue helicopter Martin 4 from the base Matrei in Osttirol had a 48-year-old mountaineer, who had complained about heart problems, at the Erzherzog-Johann-Hütte.
At the start the machine was caught by a strong gust of wind. According to the pilot, the blast pushed the helicopter down, then tipped over, said Roy Knaus, Flight Operations Manager and owner of the helicopter fleet, against the ORF: "First the runners touched the ground, then the machine has tipped over and then has The rotor touches the ground. "
The incredible footage shows the helicopter spinning out of control as a man on the ground ducks and dodges its slicing blades.
A mountaineer on the opposite ridge, who wished to remain anonymous, captured the carnage as the helicopter thundered into the mountain and sent flames and debris flying in all directions.
What's more, the pilot narrowly avoided his helicopter plunging over the sheer cliff.

Despite the violent crash the pilot, flight rescuer and patient were all unharmed. The paramedic on board suffered minor injuries.
The patient was picked up by another helicopter and flown to hospital.
It's not yet known what caused the crash and the wreckage of the rescue helicopter has now been recovered and taken for testing.
Roy Knaus, managing director of Heli-Tirol, an Austrain helicopter firm, told local press that it was likely warmer air and altitude played a role in the crash.
"It could be that the machine was too heavy and then staggered with the additional weight of the patient," explained Knaus.