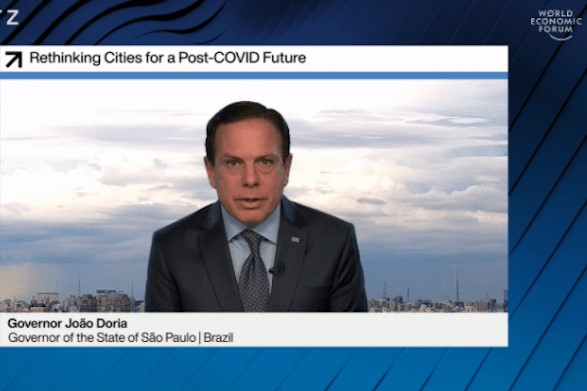 COVID-19 in Brazil, João Doria: "The vaccine is the result of our investment in science"
Governor of São Paulo João Doria reinforced innovation and technology at the World Economic Forum
This Tuesday afternoon (26), the World Economic Forum promoted the session "Rethinking cities for a post-COVID future", with the participation of the governor of the state of São Paulo, J. Dória.
The objective was to discuss ways to ensure cities thrive in this new urban future.
Possible candidate for the presidency of the Republic in 2022, João Dória took the opportunity to highlight the role of his government in combating the Covid-19 pandemic, reinforcing the beginning of vaccination by the city of São Paulo.
João Doria: "The vaccine is a result of our investment in science"
"The vaccine is a result of our investment in science, and I am happy to share with you that we started vaccination in Brazil in São Paulo, nine days ago.
At the moment, we have already vaccinated 160 thousand people, and approximately 700 thousand have been immunized in the country ", he confirms.
In his speech, Doria placed the technological advancement and investment in innovation by the state government as pillars for the development of cities, in addition to serving as a guide to long-term prosperity.
"We established a regional development secretary focused on the partnership between the state government and the cities.

In this way, we are able to understand the specific needs of each region and we can promote a practical change, allocating resources to better serve the populations that need it most ", explains the governor.
The World Economic Forum brings together annually some of the main international leaders, in addition to entrepreneurs and entities.
This year the event takes place virtually due to the increase in cases of Covid-19 worldwide.
Read Also
Brazil´S Diplomatic Relations With China Affect Vaccination
Researcher Of The New Covid-19 Strain In Amazonas (Brazil) Talks About The Collapse Of The City Of Manaus
Source: