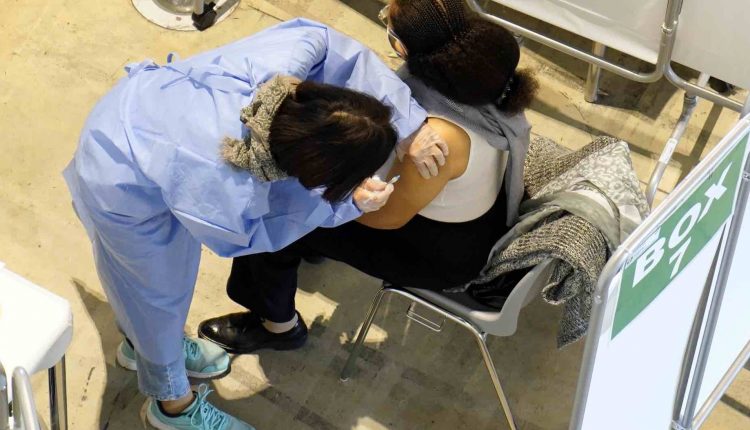 Sanofi Pasteur study shows efficacy of co-administration of Covid and influenza vaccines
Sanofi Pasteur research analysed the antibody response in 300 participants who received the flu vaccine together with the third dose of the Covid-19 serum
"Preliminary results from the first descriptive study of co-administration of Sanofi Pasteur's high-dose quadrivalent vaccine with the third dose of Covid-19 mRNA vaccine show that co-administration of the two vaccines was safe, well tolerated and with an adequate antibody response equal to each vaccine administered individually."
Sanofi Pasteur said in a statement
In recent days, the Ministry of Health had also approved the concomitant administration of the two serums in the same session.
"The quadrivalent high-dose influenza vaccine is indicated in adults aged 60 and over in Italy.
It is the only influenza vaccine that has demonstrated superior efficacy in preventing laboratory-confirmed influenza disease and reducing influenza-associated complications, such as hospitalisations for cardiovascular events and pneumonia, for 10 consecutive seasons in more than 34 million people.
The encouraging results of the co-administration study reinforce the recommendations for the simultaneous administration of the two vaccines also in Italy," the note continues.
"This study – says Francesca Trippi, Medical Head of Sanofi Pasteur – shows how in an unprecedented historical period like the one we are living, still marked by the health emergency of the pandemic and with the new flu season just around the corner, we need timely, rapid and concrete answers on the optimal and effective management of vaccination campaigns.
This is the first study to produce positive scientific evidence in terms of antibody responses and safety profile, supporting the concomitant administration of high-dose influenza vaccine with the third dose of anti-Covid19 vaccine.
These results point in the direction of facilitating the conduct of vaccination campaigns to ensure optimal protection for the high-risk population".
Michael Greenberg, chief medical officer, Sanofi Pasteur North America, adds:

"Never more essential than this season is it to help protect older adults, who are at particularly high risk for both Covid-19 and influenza complications, which can include heart attacks and strokes.
This is the first study to provide evidence supporting influenza vaccination in conjunction with a Covid-19 mRNA booster in older adults.
These positive results could facilitate the implementation of influenza vaccination campaigns and COVID-19 booster in the northern hemisphere, especially in this high-risk population group.
This descriptive study was conducted in the United States and enrolled approximately 300 participants who received two doses of a COVID-19 mRNA vaccine as primary vaccination at least five months prior to enrolment.
The study evaluates the safety profile and immune response following concurrent administration of the third dose of Covid-19 mRNA vaccine (100 mcg dose) with the high-dose quadrivalent influenza vaccine.
The full results of the study will be published later this year. The study is sponsored by Sanofi, in collaboration with the Biomedical Advanced Research and Development Authority (BARDA), part of the Office of the Assistant Secretary for Preparedness and Response of the U.S. Department of Health and Human Services, and Moderna.
Read Also:
Paediatrics / Pfizer: 'Vaccine Is Safe And Well-Tolerated By Children Aged 5-11'
Awake Prone Positioning To Prevent Intubation Or Death In Covid Patients: Study In The Lancet Respiratory Medicine
Source: