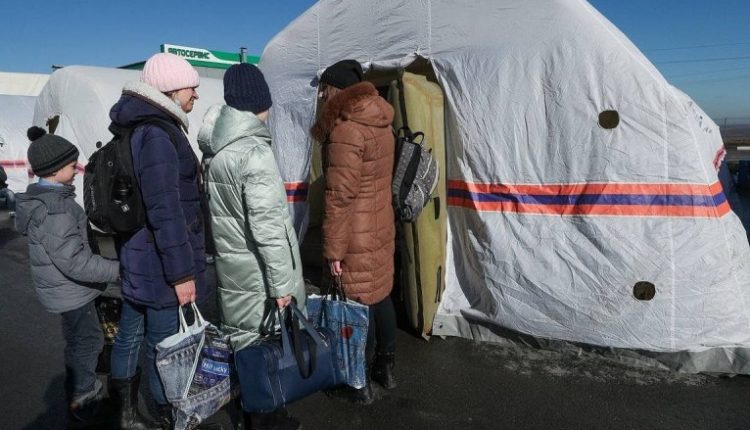 Ukrainian crisis: Russian Red Cross launches humanitarian mission for internally displaced people from Donbass
The Russian Red Cross (RCC), in coordination with the authorities of the Rostov region, is drawing up a list of priority needs for assistance to IDPs from the territory of south-eastern Ukraine and preparing humanitarian aid to be sent to the region
DO YOU WANT TO KNOW MORE ABOUT THE MANY ACTIVITIES OF THE ITALIAN RED CROSS? VISIT THE BOOTH IN EMERGENCY EXPO
Crisis in Donbass: the actions of the Russian Red Cross
On Friday, the self-proclaimed Donetsk and Lugansk People's Republics (DPR and LPR) began a mass evacuation of residents from their territories in Russia (Rostov region).
Currently, 26 out of 85 Russian regions have declared their readiness to deploy.
In the Rostov region, catering and accommodation centres are being set up for the evacuees.
On Saturday, representatives of the RKK emergency department arrived in the region.
They are assessing the current situation on the ground and coordinating with the #WeTogether volunteer office and the RKK regional office are forming a list of essentials, as well as other support measures for those in need.
Displaced persons from Donbass, Russian and international Red Cross support

In particular, a psychosocial support programme is being drawn up and work is underway with partners in humanitarian aid training.
Monitoring will be carried out on an ongoing basis and humanitarian assistance will be provided in coordination with the International Federation of Red Cross and Red Crescent Societies (IFRC) and the International Committee of the Red Cross (ICRC) – specialists will also be sent to the region to strengthen the work to provide assistance to IDPs.
Read Also:
Emergency Live Even More…Live: Download The New Free App Of Your Newspaper For IOS And Android
Russia, The International Red Cross And Red Crescent And The Ministry Of Emergencies Discussed Cooperation
Ukraine, A Course For Women On How To Survive In The City In Case Of War And Emergencies
Crisis In Ukraine: Civil Defence Of 43 Russian Regions Ready To Receive Migrants From Donbass
Source: