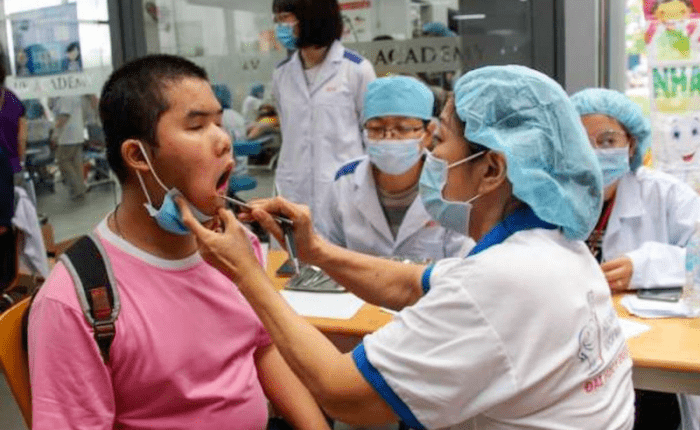 Vietnam, free care for about 2 thousand poor and disabled people in Ho Chi Minh City
Ho Chi Minh City, Vietnam: access to basic care in some areas of the world is at least difficult. In Ho Chi Minh City, Vietnam, about 2,000 people, including 500 disabled people, we're able to benefit from medical (visual, dental, cardiac, neurological, and gastric) and food services
On November 15, the World Day of the Poor was celebrated all over the world, wanted by Pope Francis and now in its fourth edition.
Many people went to a school in Ho Chi Minh City, Vietnam, including 500 disabled people, mainly from 22 Catholic and Buddhist reception centers.
Access to care for the poor and disabled in Ho Chi Minh City, Vietnam
P. Antonio Nguyen Ngog Son, is vice-president of an association that deals with the disabled and orphans. He explains: "We wanted to offer free care to these more precarious people as a gesture of charity, to mark the World Day of the Poor".
The association also deals with health and social issues.
The treatment of each patient cost about 350 thousand dongs (12.77 euros), but all were visited for free because – as Fr. Son explains – none of these patients would have the opportunity to pay.
"I am really grateful to Fr. Son and his doctors, who allowed me to receive free treatment," says Anne Nguyen Huong Tho, a woman from Ban Co.
Ms. Anne suffers from high blood pressure and varicose veins, but she has no chance to see a doctor. Her work earns her only 3 million dongs a month (about 109 euros).
In Ho Chi Minh City, Vietnam at least 167 thousand physically disabled and 13 thousand orphans
Fr. Son was the director of Caritas Vietnam. He said that in Ho Chi Minh City, the largest metropolis in the country, there are at least 167,000 physically disabled people and 13,000 orphans in need of support from the local community.
The priest is trying to spread this style of free medical visits to other regions of the country.
Last month he organized a day in the province of An Giang, offering about 1000 inhabitants medical examinations, clothes, rice, instant noodles, and school supplies.
Next month he hopes to organize something similar in Ben Tre province.
Good news indeed. Paraphrasing a phrase from the Babylonian Talmud, he who cures a life cures the whole world.
Read Also:
MEDEVAC In Asia – Performing Medical Evacuation In Vietnam
Typhoon Molave, Philippines And Vietnam: Nine Deaths And Over A Million Displaced Persons
Resilient Cities In The Word! – The Water Management In Da Nang, Vietnam
Source: