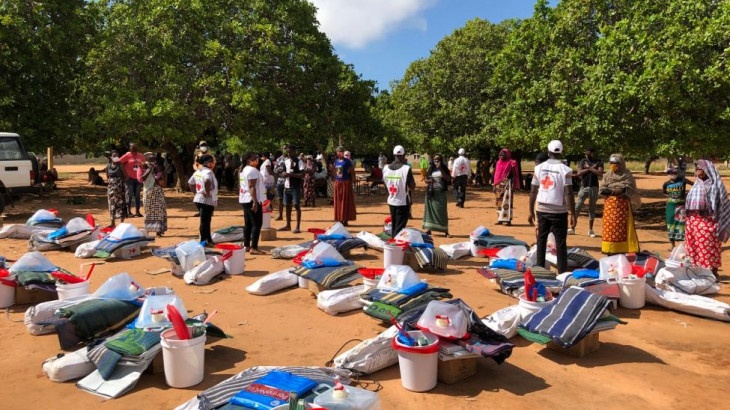 Mozambique, displaced families reaching the COVID-19 hotspot where Red Cross just opened a treatment center - VIDEO
In Mozambique, attacks forced families to flee towards Pemba in order to seek for relief. However, they are reaching for the COVID-19 hotspot, which has the country's largest treatment COVID-19 centre that opens today and this is rising alarm for infections.
Many families from Cabo Delgado, Mozambique, have arrived in Pemba exhausted and traumatized after leaving their homes with few or no possessions. They reached the COVID-19 hotspot where the International Committee of Red Cross (ICRC) just opened the biggest COVID-19 treatment center. The worry now is that so many people could be infected from coronavirus.
Displaced families seek for relief at Pemba, the COVID-19 hotspot of Mozambique. Fear for a new peak.
Raoul Bittel, the head of Red Cross operations in Pemba reported that people are fleeing armed conflict in Mozambique are trading this life-threatening danger for the risk of COVID. The new treatment centre will help the community respond to the health crisis, but these families cannot return until the fighting moves away from civilian homes.
The risk of contracting COVID-19 in Pemba is very real. Most of the displaced find shelter with families or relatives, putting an additional burden on them and increasing the kinds of overcrowded conditions that help propagate the spread of COVID-19, as physical distancing becomes impossible.
The hope is that the infrastructure will not have to be used all and suddenly, but in case this becomes necessary all conditions are set to respond. This is particularly important in the province of Cabo Delgado with a high number of displaced people and a greater concentration of population particularly exposed to the risk of COVID-19 infection.
Mozambique, the mission of the Red Cross
Recurrent violence has plagued communities in resource-rich Cabo Delgado since 2017, but it has escalated in frequency and intensity in 2020. Towns that were previously unscathed and served as places of refuge for those who fled attacks in more rural areas have come under fire.
In late May, Macomia town, where the Red Cross had been working for a year to restore water and health care services, was attacked, forcing the entire town to run into the bush and flee on precarious boats heading south. In the clashes, a maternity hospital that the ICRC repaired after it was damaged in Cyclone Kenneth in 2019 was destroyed.
VIDEO – THE BUILDING OF THE COVID-19 CENTER BY THE RED CROSS
Video shared by Manuel Mabuiangue – Red Cross Communication Officer