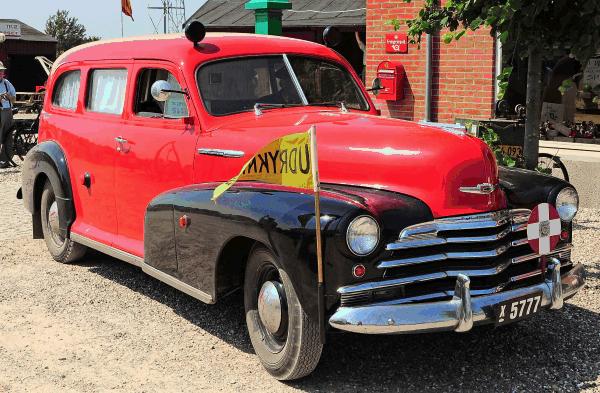 Ambulance Museum in Denmark - Brief guide for tourists and professionals
Ambulance museum: want to know more about emergency medical history in Denmark?
Emergency Live brings you on a time-machine article! Follow us in this ambulance museum and find beautiful old vehicles, fire trucks and testimonials from the "gold times" of rescue.
A dive into the world of ambulance service. The Danish Museum of Science & Technology hosts the most important collection of the historical ambulance and emergency vehicles since the start of the 20th century. It is located in Helsingør and you can reach it easily by car, train or bicycle. The official name of the structure is Danmarks Tekniske Museum.
LOCATION

Set in a beautiful context, the Museum offers an incredible variety of ambulance vehicles and testimonials from the really beginning of the modern emergency services structure. The museum hosts a collection of equipment connected to the historical Danish emergency services company known as Zone-Redningskorpset. The evolution of the museum help responsible to create and rebuilt a huge amount of stories surrounding this equipment.
Ambulance museum in Denmark: What is the main ambulance or emergency vehicle of the exhibition?
The most important piece of the collection is a Chevrolet Stylemaster ambulance from 1947, but this is not the only masterpiece of the collection. One of the best stories behind the vehicles is related to that ambulance. It was the car belonged to Carl Pedersen that ran the Zone-Redningskorpset from Odder, Denmark. It was put in duty August 22nd 1950 as a vehicle functioned as an ambulance all the way to 1970. 20 years of interventions and epic rescue realized in the first time of the EMS services in Europe.
Visiting this ambulance museum you will contribute to saving another masterpiece of the EMS history in Denmark. The most important planned interventions to improve the museum regards the restoration of a Bedford tow truck from 1950. Originally in duty from 1951 to sometime after 1963. It will be ready soon but your trip to the museum can help the owner in rebuilt it as the original one.
Which is the best season to visit your ambulance museum?
Summer. The museum is located in an old construction hall, and it can get quite cold during the winter. But only if you are not a child. Because the museum is a really incredible place for young who want to become paramedics, doctors or Firefighters. The museum has many machines, cars, and technical equipment for kids to try.
Denmark Tenkiske Museum in Helsingor has also special services for schools. You can contact the museum one week prior to your visit to arrange special tours for school groups.
Are lunch and refreshment possible at this ambulance museum?
Yes. The museum has a small cafe with refreshments – as well as a gift shop. You can also bring your own food.
Ambulance Museum in Denmark – READ ALSO