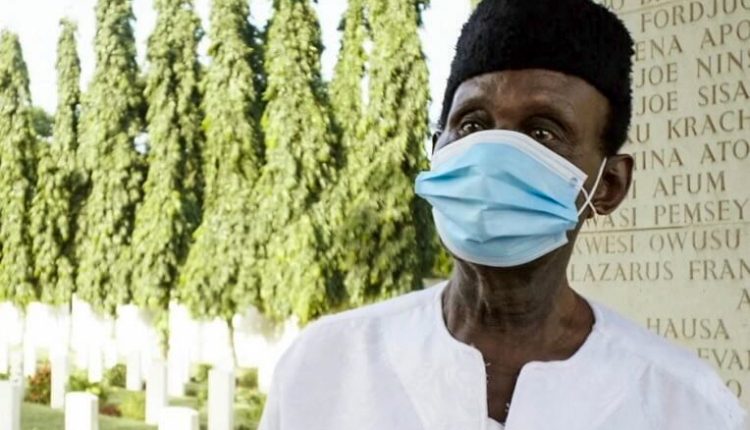 Ghana, 95-year-old veteran runs 20 km across Accra and collects 19,000 dollars to donate face masks 
A 95-year-old WWII veteran in Ghana organized an original and a very nice initiative in order to do his part against COVID-19: raising funds to donate face masks.
It is Joseph Hammond, the 95-old-year veteran who organized a run across Accra in seven days to collect money and donate face masks in Ghana.
Ghana, veteran organizes a run to donate face masks for COVID-19
Joseph Hammond served in the war in Myanmar, completed a seven-kilometre walking tour of Accra to solicit donations, especially from leaders and great African entrepreneurs. The goal is getting around $ 500,000 to buy personal protective equipment (PPEs) for both doctors and nurses working in hospitals and for his "veteran colleagues."
He realized this idea after he learned that Captain Sir Tom Moore, who in the UK did something similar in his home garden, raising £ 35 million for the British health system.
The thought of Joseph was, "both of us fought WWII, if he can do that, I can too!". The initiative was quite successful. Many African newspapers talked about it, with relaunches on international broadcasters.
Mr Hammond got less than he would have hoped because he could raise the equivalent of $ 19,000. However,  he was greeted by a cheering crowd at the end of the last stage: the Arc de Triomphe in Independence Square. Other veterans were there waiting for him, too.
The support of other veterans for the collection of money to donate face masks for COVID-19
His companions, for the occasion, were wearing the Royal West African Frontier Force (Rwaff) uniforms, the military corps established by the British crown in its African colonies, which between 1939 and 1945 fought not only in Burma, but also in Italian Abyssinia. In 200 thousand they served for the Empire.
In addition to the members of the Rwaff, a picket of soldiers of the Ghanaian army welcomed and honoured the soldier, Hammond. Now, a local Foundation, Guma, took care of the donations collected and will soon provide the distribution of gloves and masks.
According to data from the World Health Organization (WHO), there are 7,303 confirmed cases of coronavirus in Ghana. At least 34 deaths.
READ MORE
SOURCE