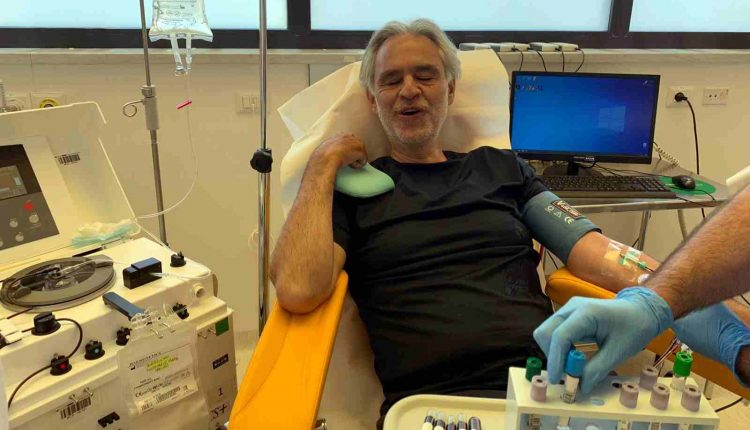 COVID-19, Andrea Bocelli defeats coronavirus and donates hyperimmune plasma
Andrea Bocelli, one of the most famous artist in the world, defeated COVID-19 and decide to donate his hyperimmune plasma.
At the Cisanello hospital of Pisa (Italy), Andrea Bocelli declared he had contracted a mild form of COVID-19, together with all his family members. Therefore donated his hyperimmune plasma for clinical use.
Fighting against COVID-19, the famous artist Andrea Bocelli donates his hyperimmune plasma
Accompanied by his wife, Veronica Berti, the artist arrived shortly before noon at the facility and said he only wanted to help and support the cure of COVID-19 disease.
There was Simona Carli, director of the regional blood center, to welcome and thank him, on behalf of the Tuscany Region.
For the AOUP (Azienda Ospedaliera Università Pisana – Cisanello), there was Mojgan Azadegan, director of transfusion medicine and transplant biology from the Health Department, Alessandro Mazzoni, director of the Maria Lanza transfusion laboratory, and Francesco Menichetti, director of infectious diseases, who is the coordinator, together with the San Matteo hospital of Pavia, of the national experimentation of plasma therapy (study 'Tsunami' – TranSfUsion of coNvalescent plAsma for the treatment of severe pneuMonIa due to SARS-CoV2) for the treatment of COVID-19.
COVID-19, Andrea Bocelli donates his hyperimmune plasma: the center of the 'Tsunami' study
Andrea Bocelli donated his hyperimmune plasma for the 'Tsunami' study in clinical use via plasmapheresis, which is treated by the machinery for the inactivation of pathogenic germs (thus rendered hyperimmune).
The latter condition is essential in order to use the liquid component of the blood without adverse events. His wife, on the other hand, as she had pregnancies, donated her 'normal' plasma (in fact, it is not possible to use the hyperimmune plasma of women with previous abortions or pregnancies), the AOUP Press Office writes this in a note.
READ ALSO
RELATED TOPICS
SOURCE