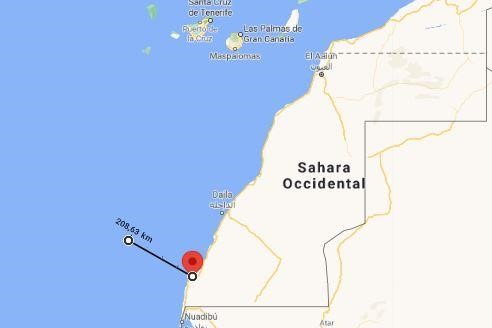 Migrants, Alarm Phone: '46 adrift in Atlantic for a fortnight, 14 dead'
Migrants adrift off the Canary Islands, Alarm Phone reports: 46 migrants who left the coast of Western Sahara for the Canary Islands in the Atlantic Ocean spent almost two weeks at sea without food or water
Fourteen people didn't make it, and today the Alarm Phone organisation, which receives emergency calls from migrants from Africa trying to reach Europe via the Mediterranean or the Atlantic, reconstructs the story from the survivors.
Alarm Phone: The group left on 28 July from Dakhla, in the disputed Western Sahara about 450 kilometres from the Spanish islands
Due to the strong wind, the boat was immediately pushed away from the Canary Islands, and after three days the group was left without fuel, food and water.
Already on the first day the migrants had contacted Alarm Phone for help, but at some point the mobile phones became unreachable and the NGO reports that it was no longer able to contact the shipwrecked people.
In the days that followed, Alarm Phone reports, there were 'terrible moments'
They were without food or water," said a relative of one of the survivors, "some of the boys started to jump into the water, preferring to die rather than stay on board.
Other people died during the journey and their bodies were thrown into the ocean, although some passengers asked to keep them on board because their families would have liked to see them.
Those who managed to stay alive were fed sultanas and sea water.
Another woman told Alarm Phone that she was burned by the sun after trying to shade other passengers with her body.

According to the organisation, nine survivors ultimately lost their lives during the two weeks they were adrift, while four others drowned trying to grab the ropes thrown by the merchant ship that finally rescued the group.
It was only on 10 August that an aircraft of the Spanish NGO Salvamento Marítimo spotted the boat and contacted two nearby merchant ships.
The SOS was answered by the Ever Grace, which reached the group 200 kilometres off the African coast and 650 kilometres south of the Canary Islands.
The shipwrecked people were transported to Las Palmas, where they were admitted to hospital.
A woman with diabetes unfortunately did not make it through the night, making her the fourteenth victim.
Alarm Phone concluded the note by warning that 'the Atlantic route continues to be the most dangerous and deadly route to Europe', and that stories like this are no exception: in the cases recorded between 1 and 20 August, the mortality rate was 47%.
Read Also:
Migrants, Alarm Phone: "480 Deaths In A Week Off The Coast Of Senegal"
Migrants, Médecins Sans Frontières Announces The Return Of Its Ships To The Mediterranean
Source: