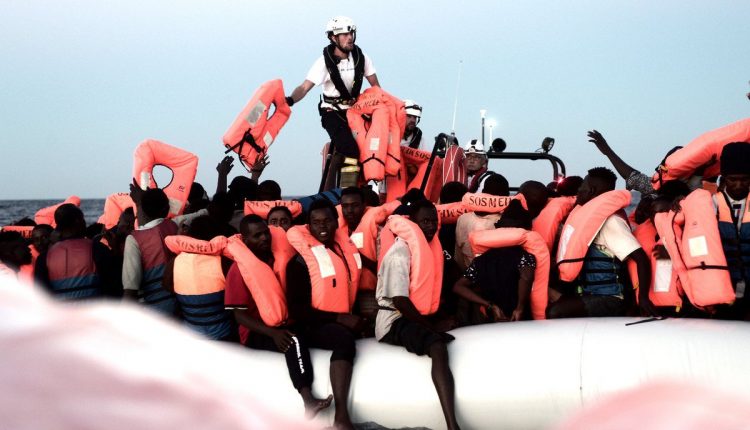 Migrants, Médecins Sans Frontières announces the return of its ships to the Mediterranean
Mediterranean, Médecins Sans Frontières intervenes on the migrant front: the organisation attacks the inaction of European states and asks the EU to stop supporting the Libyan coastguards
Médecins Sans Frontières: "Our return to the Mediterranean, for the seventh consecutive year, is the direct result of Europe's reckless non-assistance policies, which condemn people to die at sea"
These are the words of Claudia Lodesani, president of the NGO Doctors Without Borders (MSF).
The president commented on the relaunch of "search and rescue activities in the central Mediterranean" with the ship Geo Barents announced today by the organisation that, as stated in a note, aims to "save the lives of migrants and refugees who attempt the desperate crossing from Libya".
MEDITERRANEAN, MSF: 'WE ARE CRIMINALISED BY EUROPEAN GOVERNMENTS'.
"Over the years, European governments, in particular Italy and Malta as the most involved coastal states, have progressively abandoned search and rescue activities, stopped assisting people in danger and deliberately hindered, if not criminalised, the life-saving action of organisations at sea," denounced Lodesani.
"These policies have left thousands of men, women and children adrift, at risk of drowning along Europe's southern border."
In the first two months of 2021, according to data from the Interior Ministry, the number of people arriving by sea in Italy doubled compared to last year.
To date, there are 1,600 migrants in the hotpsot on the Sicilian island of Lampedusa, the main landing point on the central Mediterranean route, compared to a maximum capacity of 250 people.
MIGRANTS IN THE MEDITERRANEAN: "MORE THAN 500 PEOPLE HAVE DIED AT SEA SINCE THE BEGINNING OF THE YEAR".
"People continue to die in the central Mediterranean, in a desolate vacuum of rescue capacity," the president reiterated.
"As a medical-humanitarian organisation we have been assisting vulnerable people everywhere in the world for 50 years.
In the face of incessant deaths and culpable inaction by States, we are obliged to return to the sea to bring relief, care and humanity, doing our part to stop these avoidable tragedies."
Since the beginning of the year, the statement continued, "more than 500 men, women and children have died trying to cross the central Mediterranean.
The terrible shipwreck on 22 April claimed at least 130 lives, with others following in the weeks that followed".
According to Msf, "those who survive risk being intercepted by the EU-backed Libyan coastguard and forcibly returned to Libya (7,000 this year alone).
Most of them end up arbitrarily locked up in dangerous detention centres where they are exposed to mistreatment, rape, exploitation and even death".
"NO MORE EU SUPPORT TO LIBYAN COAST GUARD".
Msf calls for an end to European support for the Libyan coastguard and the forced return of people to Libya, and for the restoration of an efficient search and rescue capacity to stop deaths at sea.
We cannot remain silent in the face of this deliberate catastrophe," said Lodesani.
"Europe's support for this dramatic cycle of exploitation and suffering must end as soon as possible.
Member States must ensure that a dedicated and proactive, state-led search and rescue mechanism is urgently reactivated in the central Mediterranean."
Read Also:
Mediterranean Sea, Rescue Of Over 100 Migrants In Two Operations By Navy And Sea Watch
Source: