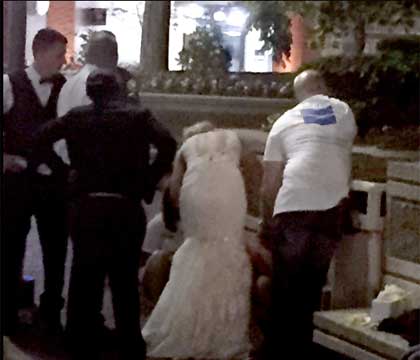 New bride in wedding dress gives CPR to woman on street
A new bride didn't let her white gown stop her from reviving a woman who was unconscious on a bench in Pittsburgh.
A CPR in her wedding dress: Julie Stroyne, a trauma nurse at UPMC-Presbyterian and a 2014 graduate of Otterbein's nursing program, was walking in downtown Pittsburgh Saturday night after her wedding reception when she and others from her wedding party saw the ailing woman.
"We were just about to go through the doors," Julie told KDKA-TV, "and then we heard somebody scream, 'Does anybody know CPR? Is anybody a doctor'?'"
The couple headed toward the bench where they found a woman, barely breathing.
Her sister Kaitlyn Stroyne tells the Observer-Reporter the woman had no pulse. She says Stroyne kicked off her heels and got down on her knees while others called 911. Still in her wedding gown, she began to perform CPR.
"My sister got down on her knees and immediately began CPR," Kaitlyn Stroyne said. "Everyone around us was saying, 'The bride saved the day.'"
The newlyweds didn't get the woman's name and don't know her condition, since once paramedics arrived they "kind of stepped back."
The woman was doing much better when paramedics arrived to take her to the hospital. This couple has known each other quite a while.
Julie Stroyne says "there's no time off" a nurse's duties: she "never knew that would happen on my wedding night!"