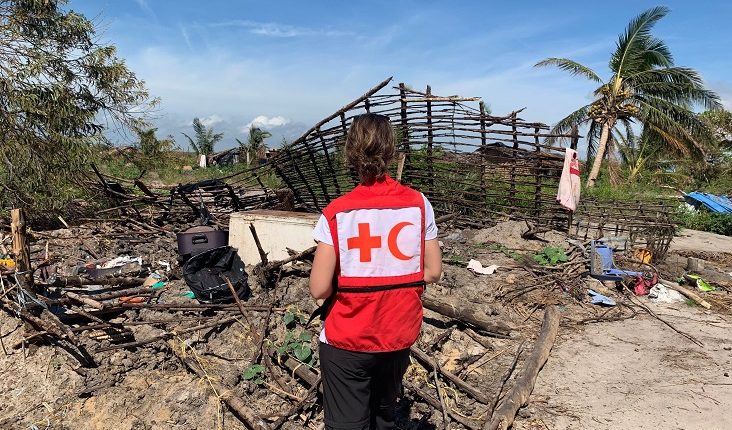 COP26: Red Cross to make strong appeal on climate change in Glasgow
During COP26 in Glasgow, Francesco Rocca, President of the Italian Red Cross and the International Federation of Red Cross and Red Crescent Societies (IFRC), will call on world leaders to "act quickly because it is not too late: the survival of humanity depends on the actions we take today. This is also true for Italy, where the effects of climate change have been dramatically felt for some time now"
"The COVID-19 pandemic and the climate crisis," continues Francesco Rocca, "are affecting every aspect of our lives and societies, including people's physical and mental wellbeing, but also our livelihoods and economies.
The poorest and most vulnerable, who are least responsible for the climate crisis, are nevertheless the most affected.
My participation at COP26 in Glasgow on 1 and 2 November as President of the International Federation of Red Cross and Red Crescent Societies will serve to call again on world leaders to take immediate action for rapid and drastic reductions in greenhouse gas emissions and, at the same time, to urgently address the existing and imminent humanitarian impacts of climate change, taking into account the lessons learned from the COVID-19 crisis.
Since the pandemic began, climate-related disasters have severely affected the lives of at least 139 million people worldwide. Of the 25 countries most vulnerable to climate change, 14 are also experiencing conflict.
"But not only that – underlines the CRI-IFRC President – the effects of the climate crisis are also being experienced by our communities in Italy.
We used to think that these extreme weather events only occurred on distant Pacific islands, but today they are happening in Europe and in our country".
COP26, Francesco Rocca on climate change: "no one can do it alone"
"No one can do it alone.
The Red Cross and Red Crescent Movement – concludes President Rocca – is committed to playing its part in the global efforts to stem the climate crisis.
We have experienced, in our own operational contexts, the effectiveness of collective efforts: millions of volunteers from the National Red Cross and Red Crescent Societies are already working to curb the global pandemic.

As auxiliaries to every government in the humanitarian field, National Societies are key players in the climate crisis, on the frontline in communities around the world before, during and after disasters.
They also provide advice to their authorities that enables effective preparedness, response and coordination.
We are also reducing the environmental impact and greenhouse gas emissions of our operations and we urge others to do the same.
Humanity's survival depends on the actions we take today to mitigate climate change and adapt to its impacts.
It is not too late to act. COP26 is an opportunity we must seize, all together."
Read Also:
Eco-Anxiety: The Effects Of Climate Change On Mental Health
The Body Of The Woman Missing In The Area Of Catania Has Been Found, The Third Victim Of The Bad Weather In Sicily
Climate Change, International Red Cross Report On The Impact On People
EENA: The Italian Warning Platform That Europe Likes Is Called Nowtice
Source: