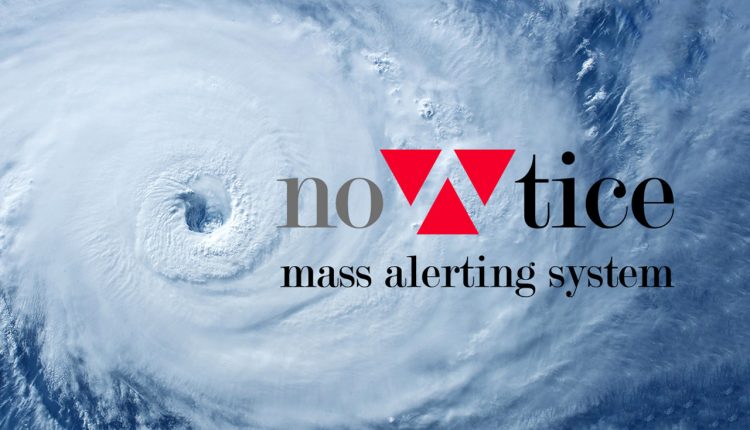 EENA: the Italian warning platform that Europe likes is called nowtice
Alerting and nowtice: the 2021 edition of the EENA Conference & Exhibition has brought great news on the topic of public warning system
Italy has come up with a solution that solves the age-old problem of integrating operations rooms, crisis detection systems and means of timely communication with the population.
The operations centres and the nowtice functions in alerting
Operations centres are the nerve centre of operations, which must be fast, precise and effective: the pressure on them becomes enormous during critical events.
Thus, it's only natural that the media and the public should turn the spotlight on them.
Coordination is not always easy, and while a great deal of practical work is carried out by the so-called 'control rooms', in terms of communications chaos becomes a major problem to be dealt with and resolved.
Public Warning System (PWS) at the EENA Conference & Exhibition
For this reason, the EENA Conference & Exhibition talked a lot about PWS (Public Warning System), with Italy playing an increasingly important role in technological innovation in this sector.
Italy is home to nowtice, a software solution developed by the Turin-based company Regola.
Regola, after the national success on small and big organisations, is attracting more and more the European interest in the PSAP and Operations Centres field, both as far as health care and Civil Protection and Fire Brigades are concerned.
Not surprisingly, nowtice has been presented to the EENA audience by Frequentis
The Austrian company, active in more than 50 countries with over 70 years of history in technological innovation for safety-critical applications, explained the qualities and features of the alerting system.
Ivan Gojmerac, Frequentis' Regional Sales Manager for Central Europe and the Public Safety sector, explains: "nowtice allows perfect interoperability with existing systems in public warning rooms and PSAs, and this makes it possible to have timely information flows and highly accurate public alerts to citizens".
Public warning system (PWS): nowtice is an integration model, even before being a product on the market
It is why nowtice caught the audience attention at the event organised by EENA, where emergency professionals share and discuss good practices that will improve the sector in the years to come.
DO YOU WANT TO KNOW MORE ABOUT NUE 112? VISIT THE EUROPEAN EMERGENCY NUMBER ASSOCIATION STAND AT EMERGENCY EXPO
A model that has grown up in the Italian market, where the challenge has always been the synergy between small authorities, superordinate structures, the Civil Protection galaxy and the strategic sector of emergency numbers, including the single number 112.
Among the important functions of nowtice, in addition to the fundamental configuration of message sending flows with escalation logic that make it possible to progressively raise the urgency of the communication, are support for all the most important types of sensors, full compliance with privacy regulations (in Italy the platform is also AgID-qualified) and the sharing of contacts, contact details and organisational information between multi-level bodies.
The latter is successfully used in complex territorial organisations, as the case of South Tyrol shows.
In Europe, nowtice also impresses with its exceptional sending capabilities on almost every communication channel available to the authority

These include the most modern channels such as social networks and messaging systems such as Telegram, which facilitate real-time consultation of alerts, but also variable message signs, traffic light installations, sirens and specific desktop and mobile applications.
There is also maximum integration with existing apps, enabling emergency authorities to adopt a public warning system quickly, thanks to already widely used tools such as weather and tourism apps.
And finally, there is also the prospect of national coverage, which is ideal for a technologically advanced company like Frequentis, which also presented location-based SMS and cell broadcast nowtice applications at EENA.
To all intents and purposes, with the official presentation at the EENA Conference & Exhibition 2021, nowtice has received a certification of quality and technological innovation that will soon show its cascading effects on various European realities.
Not only about the large national emergency systems, PSAPs and governmental integrations but to all the local authorities that are already essential components of a widespread and shared public safety model too.
The PWS from the point of view of the Operations Rooms – with FREQUENTIS at the EENA Conference 2021
For more information and contacts:
Contacts: CLICK HERE
Read Also:
Disaster Manager, The Future Is In The Information Networking, And In A Command Line Always "Open"
EENA Conference & Exhibition 2021: EENA's Medal Of Honour For Distinguished Service During COVID-19
Eco-Anxiety: The Effects Of Climate Change On Mental Health
The Body Of The Woman Missing In The Area Of Catania Has Been Found, The Third Victim Of The Bad Weather In Sicily
Climate Change, International Red Cross Report On The Impact On People
Source: