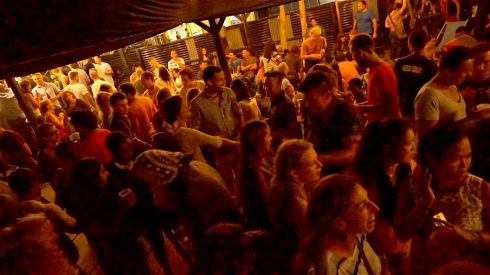 Love is in the NGO - Typhoon Grindr: dating and post-disaster sex in the Philippines
TACLOBAN, 8 September 2015 (IRIN) – "Before Haiyan, all we had on Grindr was mehhhh – four or five people. After Haiyan, boom – white men!"
Jericho*, 28, finds it hard to recall much of a social scene in Tacloban before Typhoon Haiyan. A senior manager at one of the Filipino city's most expensive hotels, he recounts a routine that consisted of going to the gym in the morning and walking home along empty streets after dark in a city where "everyone knows everyone."
Out to his friends but closeted at work, he would escape to Cebu or Manila to party at gay clubs, where his babyface features with gym-buff arms got him attention. Jericho didn't share the pageant-fever or Imelda-nostalgia of other gay Taclobanons, some of whom proudly recite the factoid that former first lady Imelda Marcos was winner of their city pageant back in the day. Jericho's main frustration was that his hook-up app of choice – Grindr – kept coming up with the same five familiar torsos, which didn't really count in his opinion as a proper gay scene.
Typhoon Haiyan, which hit Tacloban hard in November 2013, was clearly a disaster, but it was also a powerful gust of change, not least in Jericho's social life.
While some residents have left Tacloban to cope with trauma or find work, the city has welcomed an influx of professional aid workers, able-bodied gap year volunteers, and fellow Filipinos seeking opportunities and hoping to help in the recovery.
"Overnight," Jericho says, "my Grindr became the United Nations."
Disaster dating
Jericho and his friends – a convivial cohort of film-school creative types, community leaders and offbeat local entrepreneurs – have met and befriended many humanitarian workers over the past year.
In the immediate aftermath of Haiyan, patchy mobile phone signal notwithstanding, survivors longing for intimacy turned to Grindr to arrange discreet meet-ups with aid workers, who themselves sought distraction.
Levi, 26, tells me how Grindr helped him meet a French-Canadian volunteer in Tacloban: "He didn't have a very clear picture so I wasn't sure what to expect. When I met him in his hotel, I thought, 'Mmm, nice!' He just asked me how I was and whether I lost my home. But I didn't really give him details. I just wanted him."
Levi chuckles throughout our interview while narrating the novelty of his one-night stand – his first with a white man. As he speaks, it becomes clear that this was the type of sex that was for the moment, and nothing more. Having come face to face with how suddenly and completely all could be lost, there was no expectation of longevity or commitment.