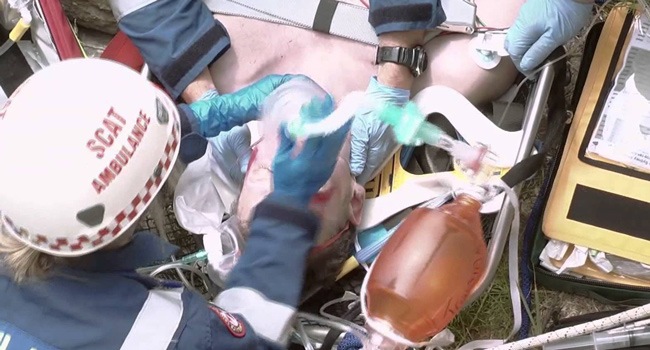 Sedation and analgesia: drugs to facilitate intubation
Intubation drugs: Patients with no pulse and apnoea or severe sensory dulling can (and should) be intubated without pharmacological assistance. Other patients are given sedative and paralysing drugs to minimise discomfort and facilitate intubation (rapid sequence intubation technique)
Pre-treatment before intubation
Premedication typically includes
100% oxygen
Lidocaine
Sometimes atropine, a neuromuscular blocker, or both
If there is time, the patient should breathe 100% oxygen for 3-5 min; in previously healthy patients this may maintain satisfactory oxygenation for up to 8 min.
Non-invasive ventilation or high-flow nasal cannula can be used to aid pre-oxygenation (1).
Even in apnoea patients, such pre-oxygenation has been shown to improve arterial oxygen saturation and prolong the period of safe apnoea (2).
However, oxygen demand and apnoea times are closely dependent on heart rate, lung function, red blood cell count, and numerous other metabolic factors.
Laryngoscopy causes a sympathetic-mediated pressor response with an increase in heart rate, blood pressure and potentially endocranial pressure.
To attenuate this response, when time permits, some physicians administer lidocaine at a dose of 1.5 mg/kg EV 1 to 2 min before sedation and paralysis.
Children and adolescents often have a vagal reaction (marked bradycardia) in response to intubation and simultaneously receive 0.02 mg/kg EV of atropine (minimum: 0.1 mg in infants, 0.5 mg in children and adolescents).
Some physicians combine a small dose of a neuromuscular blocker, such as vecuronium at a dose of 0.01 mg/kg EV, in patients > 4 years of age to prevent muscle fasciculations caused by a full dose of succinylcholine.
Fasciculations may cause muscle pain on awakening and also transient hyperkalemia; however, the real benefit of such pretreatment is unclear.
Drugs: sedation and analgesia for intubation
Laryngoscopy and intubation cause discomfort; in alert patients, EV administration of a short-acting drug with sedative or combined sedative and analgesic properties is mandatory.
Etomidate, a non-barbiturate hypnotic, at a dose of 0.3 mg/kg may be the drug of choice.
Fentanyl at a dose of 5 mcg/kg (2 to 5 mcg/kg in children; NOTE: this dose is higher than the analgesic dose and needs to be reduced if used in combination with a sedative-hypnotic, e.g. propofol or etomidate) is also a good choice and does not cause cardiovascular depression.
Fentanyl is an opioid and therefore has analgesic as well as sedative properties.
However, at higher doses chest wall rigidity may occur.
Ketamine, at doses of 1-2 mg/kg, is a dissociative anaesthetic with cardiostimulant properties.
It is generally safe but may cause hallucinations or behavioural changes on awakening.
Propofol, a sedative and amnesic, is commonly used in induction at doses of 1.5 to 3 mg/kg EV but may cause cardiovascular depression and subsequent hypotension.

Thiopental, 3-4 mg/kg, and methohexital, 1-2 mg/kg, are effective but tend to cause hypotension and are used less frequently.
Drugs to cause paralysis for intubation
Relaxation of skeletal muscles with an EV neuromuscular blocker greatly facilitates intubation.
Succinylcholine (1.5 mg/kg EV, 2.0 mg/kg for neonates), a depolarising neuromuscular blocker, has the fastest onset (30 seconds to 1 min) and shortest duration of action (3 to 5 min).
It should be avoided in patients with burns, crush injuries of > 1-2 days, spinal cord injury, neuromuscular disease, renal insufficiency, or possible penetrating eye injury.
Approximately 1/15 000 children (and fewer adults) have a genetic predisposition to malignant hyperthermia due to succinylcholine.
Succinylcholine should always be administered with atropine in children as it can lead to significant bradycardia.
Alternatively, non-depolarising neuromuscular blockers have a longer duration of action (> 30 min) but also have a slower onset of action unless used at high doses that further prolong paralysis.
Drugs include atracurium at a dose of 0.5 mg/kg, mivacurium 0.15 mg/kg, rocuronium 1.0 mg/kg and vecuronium, 0.1-0.2 mg/kg, injected over 60 seconds.
Topical anaesthesia drugs in intubation
Intubation of a conscious patient (generally not used in children) requires anaesthesia of the nose and pharynx.
A commercially available aerosol of benzocaine, tetracaine, butylaminobenzoate (butamben) and benzalkonium is generally used.
Alternatively, 4% lidocaine can be nebulised and inhaled through a face mask.
Read Also:
Tracheal Intubation: When, How And Why To Create An Artificial Airway For The Patient
Endotracheal Intubation In Paediatric Patients: Devices For The Supraglottic Airways
Awake Prone Positioning To Prevent Intubation Or Death In Covid Patients: Study In The Lancet Respiratory Medicine
UK / Emergency Room, Paediatric Intubation: The Procedure With A Child In Serious Condition
Source:
References for drugs to facilitate intubation:
1. Higgs A, McGrath BA, Goddard C, et al: Guidelines for the management of tracheal intubation in critically ill adults. Br J Anaesth 120:323–352, 2018. doi: 10.1016/j.bja.2017.10.021
2. Mosier JM, Hypes CD, Sakles JC: Understanding preoxygenation and apneic oxygenation during intubation in the critically ill. Intensive Care Med 43(2):226–228, 2017. doi: 10.1007/s00134-016-4426-0