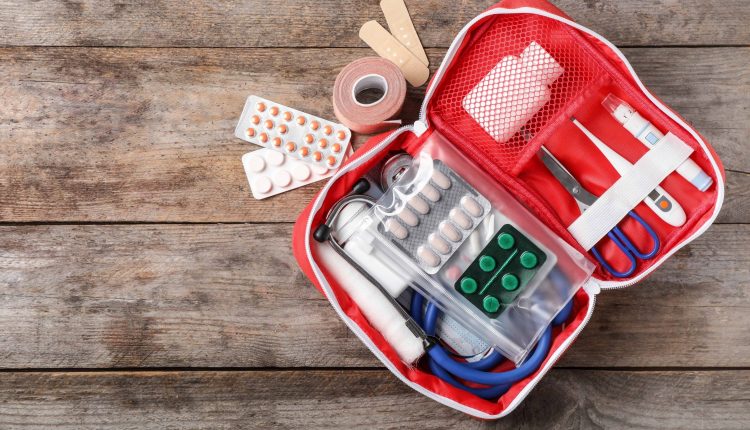 What Should Be in a Paediatric First Aid Kit
A paediatric first aid kit should contain first-aid supplies that can treat a wide range of childhood injuries, including cuts, grazes, and bleeding
A paediatric first aid kit is ideal for parents and carers to ensure child safety, whether at home or going for a day out.
CHILD CARE PROFESSIONALS IN NETWOK: VISIT THE MEDICHILD BOOTH AT EMERGENCY EXPO

Emergency Preparedness in Children: the importance of the paediatric first aid kit
A child who begins to crawl, walk, and explore their surrounding can be exposed to many potential hazards lurking around the home, playground, and even in daycare.
Their natural tendency toward curiosity and exploration can sometimes lead them into dangerous situations.
Unintentional child injuries are responsible for deaths and disability every year.
But according to Kid Safe SA, most of these are preventable and can be avoided with necessary precautions.
Children are especially vulnerable to injury as they live in a world with little to no control.
Parents and caregivers have a level of responsibility to look after the youngster's welfare under their care.
A paediatric first aid kit and the knowledge to use its content help prevent emergencies and avoid sudden infant death.
LA RADIO DEI SOCCORRITORI DI TUTTO IL MONDO? E' RADIOEMS: VISITA IL SUO STAND IN EMERGENCY EXPO

9 Must-Haves in a Paediatric First Aid Kit
Make sure that a paediatric first kit contains all of these essentials.
Plasters, also known as adhesive dressings, are used to cover small cuts, abrasions, and minor bleeding wounds.
Oftentimes, the child's skin is sensitive, and the use of plaster help protect open wounds from infection and further damage.
Choose hypo-allergenic plasters that are safe for use on children.
Buy it in various shapes and sizes for all kinds of injuries – from minor cuts and scrapes to more extensive wounds.
Spending time outdoors can sometimes make a child susceptible to insect bites and poisonous plants (poison ivy, sumac, etc.)
While prevention is not always possible, it is best to have an antiseptic cream ready to treat any stings, bites, and rashes before any infection occurs.
Always keep a trusty pack of baby wipes in the kit to clean unexpected cuts and grazes.
A painful cut, scrape, or burn can put a child in distress. The numbing spray is excellent for pain relief and makes things better for them overall.
A scissor is necessary to cut bandages down to the appropriate size. It can also help remove dressing for daily replacement, which reduces the risk of infection.

A pair of tweezers will come to the rescue in removing splinters and other sharp objects injected into the skin.
Instant ice packs temporarily relieve minor pain and swelling if a child suffers from sprains, aches, and sore joints.
Having a reading of the child's temperature helps in detecting flu sickness.
It provides an insight to parents and carers when there is a need for a healthcare provider once the reading reaches way beyond the normal range.
Preparing medications to add in a paediatric first aid kit will require a check-in with the doctor first to know which ones are safe.
Consider keeping the following medicines in the kit, including pain relievers, hydrocortisone cream, aloe vera gel, and calamine lotion.
An Epi-Pen (epinephrine autoinjector) is a must-have, especially if the child has known asthma or severe allergic reactions.
A doctor's prescription is usually needed when purchasing this medication.
FIRST AID TRAINING? VISIT THE DMC DINAS MEDICAL CONSULTANTS BOOTH AT EMERGENCY EXPO
First Aid Manual
Child injuries can happen at any time. It is vital to remain calm and patient when providing first aid care in these situations.
A first aid manual can provide a solid understanding of first aid components and how to use them on children of different ages.
Having a look over the manual allow the parent or responder to remain calm, which often lead to better outcomes.
We recommend having a first aid kit accessible within reach to attend to child injuries within minutes.
Have one at home, in the car, classroom, and anywhere the child is.
Read Also:
Emergency Live Even More…Live: Download The New Free App Of Your Newspaper For IOS And Android
Greenstick Fractures: What They Are, What The Symptoms Are And How To Treat Them
Electrical Injuries: How To Assess Them, What To Do
RICE Treatment For Soft Tissue Injuries
How To Carry Out Primary Survey Using The DRABC In First Aid
Heimlich Maneuver: Find Out What It Is And How To Do It
ALGEE: Discovering Mental Health First Aid Together
Broken Bone First Aid: How To Recognise A Fracture And What To Do
What To Do After A Car Accident? First Aid Basics
Source: