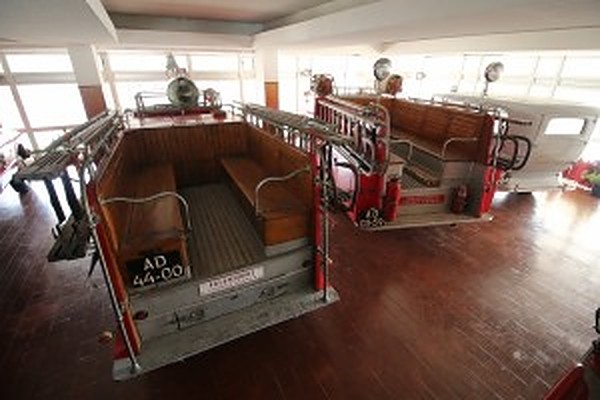 Portugal: the Bombeiros Voluntarios of Torres Vedras and their museum
Founded in 1903, the Associação Humanitária de Bombeiros Voluntários de Torres Vedras, a city located north of the capital Lisbon, has more than a century of history dedicated to the protection of the community in which it operates
SPECIAL VEHICLES FOR FIREFIGHTERS: VISIT THE ALLISON STAND AT EMERGENCY EXPO

Emílio Maria da Costa ed voluntary firefighters of Torre Vedras
In the years preceding the foundation of the association, Mr. Emílio Maria da Costa arrived in the city of Torres Vedras, who together with a group of citizens who shared his vision, met with the City Council to ask for financial help and fire-fighting equipment to organize a service that would guarantee the protection of the city from wild and domestic fires.
From that moment on, the Association has always adapted to the needs and priorities of the community in which it operates, and even today the Fire Brigade continues, day after day, to honor and practice the ideals that prompted that group of men to create the Association of Volunteer Firefighters of Torres Vedras.
During the long life of this Association there were many stories and public acknowledgments received, such as being considered of public utility by a decree of 1928, or the conferment of the degree of Officer of the Order of Benevolence in 1943, the award of the Gold Medal by the Municipality in 1953 and also the affiliation to the Portuguese League of Fire Brigades.
With an average of over 350 fires and 300 accidents per year, and a number of emergency calls exceeding 7800 in Pre-hospital Emergency and many other services, the Torres Vedras Fire Brigade continues to provide high-level assistance in the their country.
Given the diversity of risks affecting the city of Torres Vedras, the Association is able to intervene in the most diverse scenarios, including: fires of all kinds, accidents and extractions, health emergency and hospital transport, diving service and emergency response in the event of an accident involving hazardous materials.
Currently, the Torres Vedras Fire Brigade has about 41 operational vehicles, without which it would not be possible maintain the high level of efficiency and operation.
FITTING OUT SPECIAL VEHICLES FOR FIRE BRIGADES: DISCOVER THE PROSPEED STAND AT EMERGENCY EXPO

More than one hundred years of Bombeiros Voluntarios' history is preserved in the museum

In addition, with the aim of protecting and exhibiting the results of over one hundred years of their history, the association has created a museum that currently has in its heritage a considerable number of equipment and vehicles preserved and recovered over the years.
Among the various vehicles of the museum there are an ambulance horse-drawn wagon, two horse-drawn pump wagons, six motorized fire-fighting vehicles ranging from 1936 to 1980 visible in the photos, a trailer for chemical powder fire extinguishers, a motorbike from 1953, two aerial ladder engines and many others.
In addition to the vehicles mentioned above, various equipment such as respirators and personal protective equipment, lighting and even radio communications equipment are visible inside the museum.
A beautiful example of an Association of Volunteer Firefighters who, in addition to guaranteeing protection and assistance to the community in which they operate, they defend and spread the history of a fundamental service for all through their museum.

Read Also:
Italy, The National Firefighters Historical Gallery
Emergency Museum, France: The Origins Of The Paris Sapeurs-Pompiers Regiment
Emergency Museum, Germany: The Rheine-Palatinate Feuerwehrmuseum /Part 2
Fonte:
Bombeiros Voluntarios de Torres Vedras;
Link: