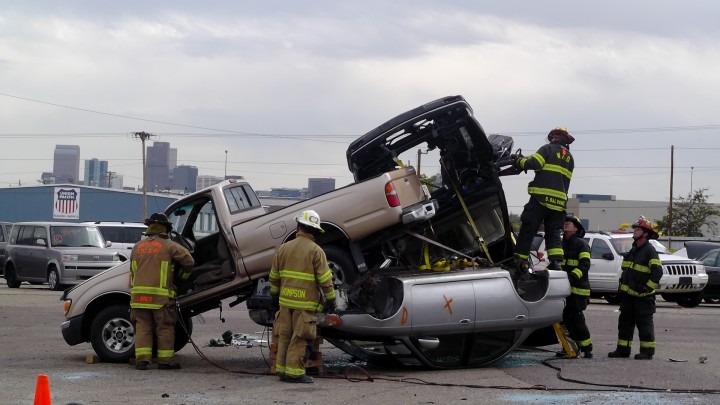 West Midlands fire service to run new road safety feature at the Emergency Services Show
West Midlands Fire Service (WMFS) will be running two realistic and interactive challenges in a new Road Safety feature at The Emergency Services Show this year. Taking place at the NEC, Birmingham from 20 to 21 September 2017, the Extrication and First Aid & Trauma Challenges will provide an arena for some of the UK's best rescue personnel to come together and develop their proficiency levels in all areas of Road Traffic Collision (RTC) rescue. Best safe working practices will be promoted in the areas of incident command and control, safety and scene assessment, extrication, professional pre-hospital care and expert use of rescue equipment. Running alongside the challenges will be a CPD-accredited Road Safety seminar programme.
With over 400 exhibiting companies, The Emergency Services Show is the UK's largest event for the emergency services. It is supported by the National Fire Chiefs Council (NFCC) Fire and Transport Officers Group, United Kingdom Rescue Organisation (UKRO), the National Operational Guidance Programme and JESIP. All aspects of The Emergency Services Show, including the exhibition, seminars and challenges are free-to-attend, as is parking at the venue. To register for free entry and to find out more visit www.emergencyuk.com
Extrication Challenge

WMFS's Extrication Challenge, judged by UKRO, will take place live on the exhibition floor enabling visitors to get up close to the action.RTC scenarios will include a car on its wheels, a car on its side and a car on its roof.The vehicles will feature heavy and complex damage along with a 'live' casualty trapped inside. Competing teams from UK fire services will be allocated 20 minutes from arrival on these simulated crash scenes to complete as much of the scenario as is safely possible for them to do.
"The competitors will obviously have winning in sight, but challenges such as this are designed to test and improve firefighters' skills so they're able to deliver the most professional response and service to our communities when they're called upon for real," explains WMFS Crew Commander James Cotton, Subject Matter Advisor for RTC Training.
"The design of vehicles is constantly changing and, as a result, so are the challenges they pose to crews who respond to real-life collisions.
"In the West Midlands we train hard to respond to serious incidents in just five minutes. Then, like our colleagues nationwide, we instantly call on our training and professionalism to provide the safest, most effective resolution possible. Challenges develop those taking part and, ultimately, benefit the casualties who need us when it matters."

First Aid & Trauma Challenge
WMFS will also hold their annual First Aid & Trauma Challenge at The Emergency Services Show this year. This will be the first time the event has been hosted outside of a brigade venue and an exciting new exciting dimension has been introduced to make the scenarios more realistic and interactive. Competing teams will experience visual and audio from an actual incident that has been set up and filmed specifically for the scenario in an Educational Immersive Tent. Teams of two will face a realistic trauma scenario and have 10 minutes to assess, treat, package and handover the patient to a medical professional.
The First Aid & Trauma Challengewill be supported bythe WMFS Casualty Simulation Group (CSG) whose volunteers play the roles of casualties year-round for WMFS training events. CSG members work hard to keep up-to-date with the latest techniques to provide realistic injuries, using make-up and prosthetics. Theirknowledge of first aid and trauma, combined with their understanding of excellent patient care, will give teams competing the challenge a full and completely realistic experience.
Road Safety Seminars
Running alongside the Extrication and First Aid & Trauma Challenges will be a dedicated Road Safety seminar programme. Speakers include the Road Rescue Recovery Association which will explain how road recovery firms can assist the fire and rescue services at the scene of a RTC. Visitors can also find out about the dangers contained within a car that could impact how rescuers respond to incidents. Devon & Somerset FRS will share details of a new motorbike and road safety educational tool kit and the National Fire Chief's Council will present on the latest rescue tools assessment proof of concept.
The Air Ambulance Association will present on the future of UK highways in the context of the All Lanes Running roll out which will impact on all emergency services, rescue and recovery organisations attending incidents. UK HEMS (a charitable collaboration of UK helicopter air ambulance services) will also be speaking.
WMFS, in partnership with various vehicle manufacturers, will provide visitors with specialist information on the latest rescue tool equipment, new vehicle technology, high strength steel, airbags, SRS, hybrid and full electric vehicles. It will also share details of its Every Choice Counts road safety initiative which uses virtual reality goggles to simulate a car journey to show drivers the consequences of their choices and actions.
Entry to the exhibition and seminars, as well as parking, is free. The NEC is linked to Birmingham International Station and Birmingham Airport and is directly accessible from the UK motorway network. To register for free entry and to find out more visit www.emergencyuk.com