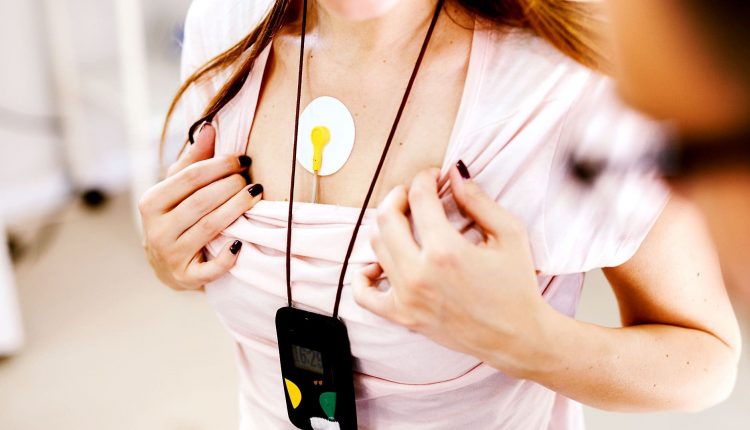 Holter monitor: how does it work and when is it needed?
Let's talk about the holter monitor. Palpitations, tachycardia or the feeling as if the heart doesn't beat. In these cases, it may be useful to investigate the symptoms with the help of the holter
The full dynamic electrocardiogram is a simple, non-invasive examination that records the heart's electrical activity for 24 hours.
Holter monitor, a 24-hour recording of the heart's electrical activity
The cardiac holter is a continuous recording of the heart's electrical activity over an entire day, usually from morning until the next morning.
The examination is performed on an outpatient basis and does not require any special preparation.
In practice, the heartbeat is recorded using a device consisting of a small 'recorder'.
Cables with electrodes are attached to the patient's front chest and enable the recording to take place.
Once the holter has been positioned and the recording has started, the patient can go home.
DEFIBRILLATORS, MONITORING DISPLAYS, CHEST COMPRESSION DEVICES: VISIT THE PROJECTS BOOTH AT EMERGENCY EXPO
How to behave during the holter monitor examination
The doctor's indication is to carry out normal daily activities in order to obtain true information on the behaviour of the heart.
In this way, it will be possible to assess whether and under what circumstances the complaints that are the reason for the examination recur.
The patient is also given a "diary" in which he/she can record his/her activities at various times of the day and any symptoms he/she feels.
It is also useful to note down the times at which a particular symptom was perceived.

This will allow you to associate any heart rhythm disturbances with a particular activity.
DEFIBRILLATORS, VISIT THE EMD112 BOOTH AT EMERGENCY EXPO
When is a holter test recommended?
The cardiac holter is particularly useful for identifying possible cardiac arrhythmias.
Arrhythmias are divided into hyperkinetic and hypokinetic, i.e. those characterised by an accelerated or too slow heartbeat.
DEFIBRILLATORS OF EXCELLENCE IN THE WORLD: VISIT THE ZOLL BOOTH AT EMERGENCY EXPO
The complete dynamic electrocardiogram is indicated to:
recording possible arrhythmias in conjunction with symptoms reported by the patient;
in the presence of an accelerated heartbeat;
to exclude the presence of silent arrhythmias (i.e. not felt by the patient);
in the presence of pathologies known to be associated with cardiac arrhythmias.
to document secondary changes due to poor cardiac muscle perfusion.
Inefficient perfusion of the heart may be associated with the presence of coronary artery disease and myocardial ischaemia.
Read Also:
Head Up Tilt Test, How The Test That Investigates The Causes Of Vagal Syncope Works
Cardiac Syncope: What It Is, How It Is Diagnosed And Who It Affects
Source: