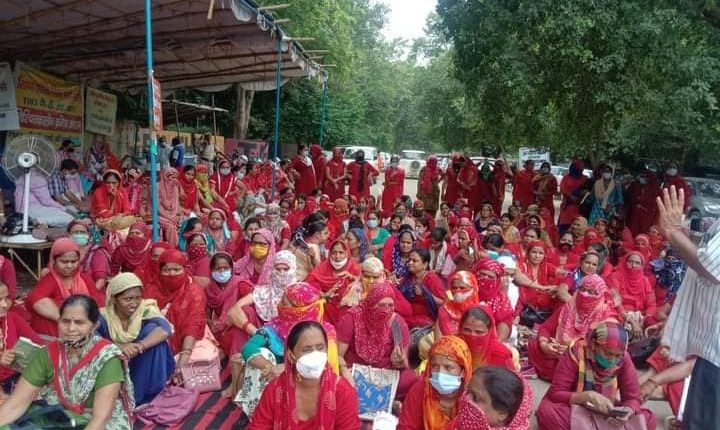 India: Asha healthcare workers on strike for lack of rights and equipment against COVID-19
India, healthcare workers on strike. They ask for more appropriate wages, recognition of their work and need for gloves and masks.
More PPEs and working rights. This is why, in India, healthcare workers are on strike.
INDIA, ASHA HEALTHCARE WORKERS' STRIKE: HERE THE REASONS 
The Accredited Social Health Activists, better known as 'Asha', are professional figures introduced in 2005 by the Ministry of Health with the aim of bringing public health services to the most remote areas of India.
The Asha also have the task of promoting prevention and raising community awareness of positive health behaviours such as vaccinations, eating habits and hygiene practices.
Since then, the Asha has become the first point of contact with public health for people living in these territories and now also represent a bulwark against the spread of COVID-19: just this week India has exceeded 3.2 million cases of coronavirus, confirming its position as the third country in the world for the number of infections, after the United States and Brazil.
In rural areas, according to experts, a surge in positive cases is taking place.
INDIA, FUNDAMENTAL ROLE OF ASHA HEALTHCARE WORKERS IN THE CORONAVIRUS EMERGENCY
In this emergency, healthcare workers of India, in addition to their normal duties, play an important role in tracking contagions and providing home-to-home care to coronavirus-positive patients, working seven days a week.
In India, the Asha healthcare workers are more than one million and work for an average salary of 4,000 rupees (the equivalent of 45 euros), judged by associations in the sector to be an unacceptable figure. According to union acronyms, these workers are treated as volunteers and their work is not recognized by the Indian minimum wage law.
According to local economists and activists, their jobs are heavily underpaid, earning almost half of what a farmer receives.
As Ranjana Nirula, coordinator of the national union of Asha told the international newspaper 'Al Jazeera' Ranjana Nirula, this job is still "seen as an extension of the work women do at home". Now the Asha ask the government for an increase of up to 10,000 rupees per month (114 euros).
The Ashas are also asking for PPEs such as gloves and masks to protect themselves from COVID-19. However, the Indian Health Minister has not yet responded to this request.
READ THE ITALIAN ARTICLE