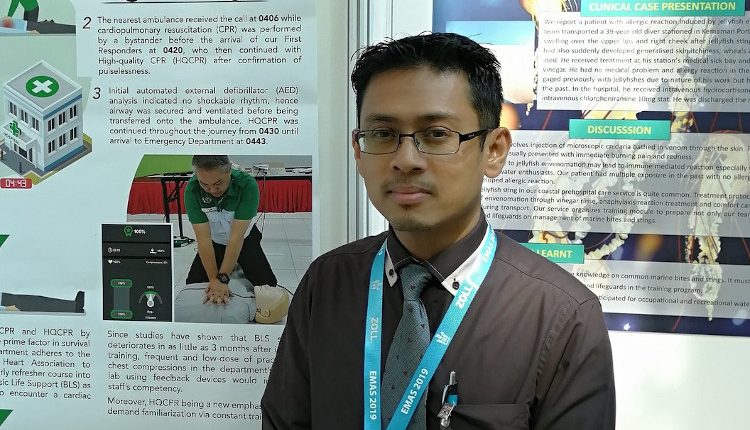 COVID-19 in Asia, the prompt response of Malaysian healthcare system. The interview with Dr Azhar Merican
Malaysia was one of the Southeastern Asian countries which quickly responded to COVID-19 coronavirus pandemic with powerful measures. During an interview with the Hospital Coordinator for the Malaysian Ministry of Health and Chair of St John Ambulance in Kuala Lumpur, we could better understand the strength of this country and the positive outcomes in the fight against the virus.
Every one of us heard of COVID-19 response worldwide but, most important is to understand what healthcare systems practically did to impede the spread of this virus. Some days ago we had the pleasure to have a video call with Dr Azhar Merican, the Official Hospital Administrator for the Ministry of Health in Malaysia and Chair of St John Ambulance in Kuala Lumpur. He directly saw and experienced how this pandemic risked putting Malaysia on its knees.
COVID-19 pandemic in Malaysia: when did the pandemic officially start in the country?
"The first case of COVID-19 patient in Malaysia was reported on 25th of January 2020. The patient was one of three Chinese nationals from Wuhan who entered Malaysia through Singapore. After that fact, we had an occasional number of cases. But then they increased in the mid of February when we had mass religious gatherings between the 27th until the first days of March in some areas in the South of Kuala Lumpur. In those weeks Malaysia registered the highest numbers of COVID-19 cases in Southeast Asia. However, we had a good Public Health intervention provided by the Ministry of Health of Malaysia. Numbers remained controlled and decreased month by month."
How did you manage to understand that the first case of COVID-19 in Malaysia really was affected by coronavirus?
"When we have reported the cases of Wuhan citizens there were diplomatic communications between China and Malaysia and also with other neighbouring countries, like Singapore. So there were constant communications so even in December the Minister of Health was alerted of these cases. We started monitoring entry points and we are currently doing it. It was through these communications that we realized that these cases were coming into Malaysia through borders."
What were the main issues that ambulance services, in particular, the St John Ambulance faced throughout Malaysia and in Kuala Lumpur last months?
"The St John Ambulance Malaysia in Kuala Lumpur provided free 24h emergency ambulance service and it has been running for the past 22 years. For this pandemic response, it received the congratulations by the Ministry of Health Malaysia for the good job done.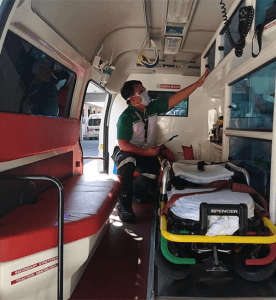 The high numbers of cases and the emergency calls were many and the government decided to include St John Ambulance among the agencies of the response into the prehospital care system to support Public Hospitals, especially in Klang Valley. Here specifically, the 9-9-9 emergency core system is firstly supported by three main agencies: the St John Ambulance of Kuala Lumpur, the Red Crescent Society, which has its own ambulance service, and the local Civil Defence. These provide the prehospital service for the Ministry of Health Malaysia.
For St John Ambulance, one of the main services is training, on the other side, when COVID-19 pandemic hit Malaysia, the Ministry of Health Malaysia set up the Movement Control Order (MCO). When the Movement Control Order was put in place, there were very limited movements amongst the members of the public, especially in road traffic. We reduced the most as possible the occasions of contagion and calls. So the number of calls was very low since the situation was monitored (we reduced to 61 calls in a month).
St John Ambulance also supported the Ministry of Health in other prehospital care services, like the transferring of the patients from one hospital to another. The aim was to re-organize our hospital functions whereby some big hospitals had the duty to manage and treat COVID-19 patient and suspected coronavirus positive patients, while other hospitals nationally maintained non-COVID patient to treat. Our ambulance service teams were down on the streets of Kuala Lumpur to deliver patients to one hospital or to another in order to assist the Ministry of Health of Malaysia at best in its efforts to contain the spread."
Kuala Lumpur is one of the most trafficked cities of Southeast Asia that experienced an impressive lockdown. What were the problems that this lock caused?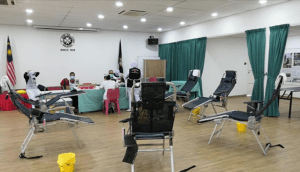 "The already mentioned Movement Control Order gave the obligation to people to stay home. So a problem that we met is those blood donors could not come to the hospitals or blood centers to donate. COVID-19 situation expected blood bags to be ready for transfusions. Again the St John Ambulance found volunteers to organize ambulance teams and help blood national centers to collect blood.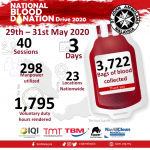 In order to do this, we engaged shopping malls because they have large spaces and we could avoid assembling and maintain social distancing. Blood donations could be put in place and ambulances then would delivered blood bags to healthcare facilities and hospitals all over the areas. We registered a good response; many shopping malls accepted to let us use their spaces. In three days we managed to collect a total of 3,772 blood bags to supply national blood centers."
Is there some peculiar case report of COVID-19 in Malaysia that you had to treat and that revealed a turning point for further research and treatments?
"We did have members of my ambulance teams who, on the 7th of April, responded with the ambulance to a patient who called for medical assistance from his home. He was ill and we delivered him to the hospital. As soon as the crew got back at the base, they got a call from the emergency department of that hospital which reported that the patient my crew just delivered was suspected of COVID-19 infection.
That caused panic in our ambulance service department. What I did was to ask for quarantine of the two first responders who got in contact with that patient. Then, the ambulance service core center decided to enter in preventive self-quarantine until we got the results of the tests from the hospital. When they contacted us again, the day after, the patient turned out to be negative to COVID-19. For almost two days we had to stop our core ambulance service and it was a great issue for people in need and also for us, but necessary."
COVID-19 pandemic response in Malaysia: What were your feelings during those difficult months?
"Well, personally it was pretty worrying. As I am a physician, I was very upset about what was going on throughout the country from both medical and social points of view.
In the prehospital setting, it was scary and worrying. I had to leave very early in the morning and come back very late at night until my kids have gone to bed. I was not easy coming home, opening the door with the fear to infect my family. At the same time, I was worried about my staff, my ambulance crew. I always remind the members of St John Ambulance teams to wear facemasks and always maintaining the right social distance. The hardest effort was to inculcate to the citizens they must wear PPEs, anytime, but in particular, avoid to reuse them. It was very challenging."
In many countries of the world, ambulance services and hospitals run out of PPEs. How did you solve the situation of PEEs lack?
"It was very similar in Malaysia. I guess that, when the government announced the activation of the Movement Control Order, people started to feel panic. Not only PPEs lacked, but we suffered also the lack of groceries like milk, oil and so on. So members of the public started to rush in shops to stock up at home. Back to PPEs, the Ministry of Health in Malaysia started to distribute its stocks of PPEs and it also could manage properly the situation with the donation of facemasks, gloves and so on by corps, associations and individuals.
As for St John Ambulance, we started with the DIY PPEs, like facemasks and face shields. Per day, volunteers managed to realize 7,000 face shields and distribute them to healthcare facilities throughout the countries."
Face shield and masks donation in Malaysia
Prev
1 of 9
Next
COVID-19 situation in Malaysia in both prehospital and hospital settings: What are your considerations?
"The number of cases is relatively low in Malaysia, right now. Our hospitals started again with the operations, as before the pandemic. Public hospitals started again calling back patients for elective surgeries and for clinic appointments.
As for prehospital care, on the frontlines point of view, precautions must always be observed. We will never know if the patients we deliver on our ambulances are affected or not from COVID-19 or if they have been exposed to coronavirus."
What about the future, according to you?
"I believe that the countries of the planet and all the associations involved should work together on how to defeat pandemic, which is a global problem. It is very precious that all the organizations and all the countries work hand in hand to avoid contagion and to find solutions, in terms of research, information, sharing and in fighting this virus that we are now facing."
READ THE ITALIAN ARTICLE
WATCH THE FULL VIDEO INTERVIEW