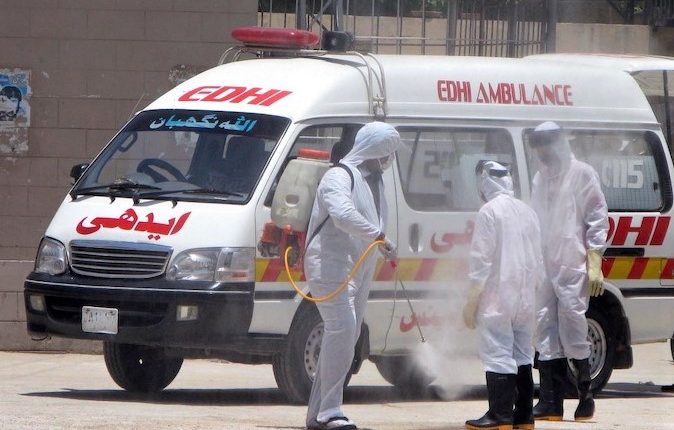 Organization of Rescue Network and Ambulance Use in Pakistan
Organization of Rescue Network and Ambulance Use in Pakistan: World Health Organization (WHO) heavily emphasizes the importance of Emergency Medical Services (EMS) to reduce the mortality associated with Road Traffic Accidents (RTA) and acute time sensitive conditions like chest pain, stroke etc.
Prompt assessment and treatment can markedly improve survival outcomes in the patient (1-5).
The reported use of EMS services is only 4.1% in population of Low and middle income countries (LMIC) in comparison to the 14.2% to 30% use in High income countries (6).
This difference could be attributed to the poor availability and efficiency of facilities like ambulance services, paramedical staff and triage (7).
Studies suggests that with the proper use of EMS in LMIC, almost 90% of the deaths due to RTA could be reduced to 45 % and almost one-third of the deaths due to other causes could be prevented (1,2).
Ambulance use in Pakistan, lack of EMS guidelines
In Pakistan, for many years there was no proper EMS protocol and guidelines.
Majority of the services were rendered by philanthropic organization called Edhi Foundation (EF) which received recognition in Guinness book of record for setting up the largest volunteer ambulance network services in the whole world.
According to the statistics of March 2016, more than 1,800 private ambulance of EF have been stationed across different urban and rural areas of Pakistan including the interurban roads (8).
The main purpose of this service was to reach the site of incident and immediately transport the patients to the nearby hospital.
In addition to this, these ambulances were also used to transport patients between different healthcare facilities or to transfer corpse from hospital to their abode as a public service (9, 10).
Although EF has and continues to serve the country by creating an efficient and easy access for the injured patients to reach the hospital, it lacked trained personnel and paramedic care.
Pakistan, the ambulance in the Rescue 1122 system
In 2004, government-funded Pre-hospital care system, named Rescue 1122 was established in the province of Punjab.
Its services were first offered in Lahore but gradually expanded in all major cities of the Punjab province (9).
Their ambulances are comprised of fleeting tracking and wireless communication devices to monitor and enhance the efficiency of the system ensuring an average response time of seven minutes with paramedical staff trained with the necessary skills to check patient's vital, do physical examination and assessment. It also included providing patient with Basic Life support, CPR, management of hemorrhage, shock, burns, fractures, spinal cord or other injuries.
Rescue 1122 is also contributing in training Fire and water rescuers along with Disaster and emergency responders.
They have also initiated Community Safety program to educate citizens about Basic Life Saving Skills.
So far, their Emergency Ambulance Services has rescued millions of victims of acute medical emergencies, disasters and specially road traffic accident because of the hesitation of people to help them due to medico-legal reasons (10).
Although initiatives taken by Rescue 1122 and few other philanthropic organizations have improved the status of pre-hospital care in many cities of Punjab, underdeveloped provinces of Pakistan still lack proper system of EMS.
However, Government of Pakistan along with these organizations are likely to come up with suitable reforms in near future that could be applicable throughout the Pakistan.
Article written for Emergency Live by Dr Rabia Anees
Read Also:
References and sources:
1) Zia N, Shahzad H, Baqir S, Shaukat S, Ahmad H, Robinson C, Hyder AA, Razzak J. Ambulance use in Pakistan: an analysis of surveillance data from emergency departments in Pakistan. BMC Emerg Med. 2015;15 Suppl 2(Suppl 2):S9. doi: 10.1186/1471-227X-15-S2-S9. Epub 2015 Dec 11. PMID: 26689242; PMCID: PMC4682417. Ambulance use in Pakistan: an analysis of surveillance data from emergency departments in Pakistan (nih.gov)
2) Kobusingye OC, Hyder AA, Bishai D, Hicks ER, Mock C, Joshipura M. Emergency medical systems in low- and middle-income countries: recommendations for action. Bull World Health Organ. 2005 Aug;83(8):626-31. Epub 2005 Sep 22. PMID: 16184282; PMCID: PMC2626309. PubMed (nih.gov)
3) Asimos AW, Ward S, Brice JH, Rosamond WD, Goldstein LB, Studnek J. Out-of-hospital stroke screen accuracy in a state with an emergency medical services protocol for routing patients to acute stroke centers. Ann Emerg Med. 2014 Nov;64(5):509-15. doi: 10.1016/j.annemergmed.2014.03.024. Epub 2014 Apr 18. PMID: 24746847. PubMed (nih.gov)
4) Dinh MM, Bein K, Roncal S, Byrne CM, Petchell J, Brennan J. Redefining the golden hour for severe head injury in an urban setting: the effect of prehospital arrival times on patient outcomes. Injury. 2013 May;44(5):606-10. doi: 10.1016/j.injury.2012.01.011. Epub 2012 Feb 14. PMID: 22336130. PubMed (nih.gov)
5) Fassbender K, Balucani C, Walter S, Levine SR, Haass A, Grotta J. Streamlining of prehospital stroke management: the golden hour. Lancet Neurol. 2013 Jun;12(6):585-96. doi: 10.1016/S1474-4422(13)70100-5. PMID: 23684084. PubMed (nih.gov)
6) Marinovich A, Afilalo J, Afilalo M, Colacone A, Unger B, Giguère C, Léger R, Xue X, Boivin JF, MacNamara E. Impact of ambulance transportation on resource use in the emergency department. Acad Emerg Med. 2004 Mar;11(3):312-5. doi: 10.1111/j.1553-2712.2004.tb02218.x. PMID: 15001417.
7) Roudsari BS, Nathens AB, Arreola-Risa C, Cameron P, Civil I, Grigoriou G, Gruen RL, Koepsell TD, Lecky FE, Lefering RL, Liberman M, Mock CN, Oestern HJ, Petridou E, Schildhauer TA, Waydhas C, Zargar M, Rivara FP. Emergency Medical Service (EMS) systems in developed and developing countries. Injury. 2007 Sep;38(9):1001-13. doi: 10.1016/j.injury.2007.04.008. Epub 2007 Jun 20. PMID: 17583709. PubMed (nih.gov)
8) https://cpecbulletin.com/2017/04/21/pakistan-has-the-worlds-largest-ambulance-service-guinness-record/
9) Waseem H, Naseer R, Razzak JA. Establishing a successful pre-hospital emergency service in a developing country: experience from Rescue 1122 service in Pakistan. Emerg Med J. 2011 Jun;28(6):513-5. doi: 10.1136/emj.2010.096271. Epub 2010 Sep 15. PMID: 20844094. PubMed (nih.gov)
10) Razzak JA, Hyder AA, Akhtar T, Khan M, Khan UR. Assessing emergency medical care in low income countries: a pilot study from Pakistan. BMC Emerg Med. 2008 Jul 3;8:8. doi: 10.1186/1471-227X-8-8. PMID: 18598353; PMCID: PMC2464585. -PubMed (nih.gov)