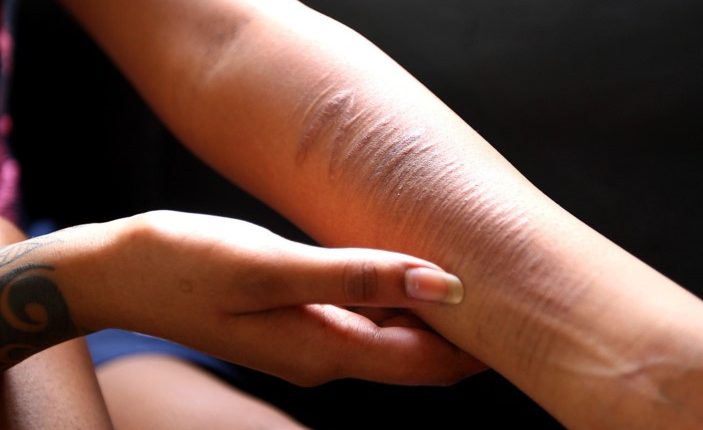 Self-harm and forced migration: what relationship and what therapy?
The term self-harm is used to describe the behaviour of harming oneself without any suicidal intent
Forced migration and self-harm: what is the relationship?
It has been observed that complex and traumatic events in an individual's life, such as the experience of forced migration, can be linked to certain self-harming behaviours (Gratz, 2006).
The process of adaptation, assimilation and integration to a new cultural context can become, in fact, the cause of widespread and pervasive traumatism, which can be defined as "everyday microtraumatism" (Risso and Boeker, 2000).
This sort of micro-traumatism derives from a series of difficulties to which the migrant is subjected: the loss of the obviousness of daily experience, continually crossed by incomprehensible elements that must be constantly subjected to interpretative work; the fracture of the founding link with the origins that becomes the cause of continuous questioning; the need for an incessant work of identity re-foundation, since they no longer have a group-body to constitute themselves.
All this is often added to previous traumatic experiences during the journey to the host country.
When the traumatic value of these events exceeds the individual's ability to cope with the pain, the body can become a theatre of suffering and an object of attack.
The feeling of not being able to exist in any psychic or cultural 'form' can generate a feeling of intolerable inadequacy and produce a strong self-hatred that can manifest itself in a devastating way on the body, sometimes even inflicting pain on oneself, precisely in an attempt to find a place for this violent hatred felt towards oneself (De Micco, 2019).
The risk of self-harm can be exacerbated by three risk factors:
Thwarted belongingness (loneliness; absence of mutually caring relationships)
Perceived burdensomeness (belief that one is so imperfect as to exert responsibility on others; affectively charged ideation of self-hatred)
Learned capacity (prolonged exposure to negative events and physically and/or psychologically painful experiences) (Joiner, 2005).
Feelings of non-belonging, isolation, powerlessness, uselessness, guilt and shame, included in the three aforementioned variables, are common to almost all experiences of forced migration, so it becomes easy to understand how the risk of committing self-harming acts becomes significantly more pronounced.
Self-harm, a target at risk: unaccompanied foreign minors
As revealed by the literature on the subject, self-harm as a consequence of migration events seems to be a more observable behaviour during adolescence.
The uprooting, the abandonment of the social and cultural context of belonging, the journey and the arrival in a new country, often faced without the support and emotional support of family members, may constitute stress factors even more difficult to deal with for adolescents who are faced, simultaneously, with physical, cognitive and socio-emotional changes, including the development of autonomy and identity.
As a result of these difficulties, the body can become a veritable 'battlefield', a means of expressing the pain and anguish experienced.
In this case, self-inflicted pain is a way of escaping from suffering or of diluting it, in a sort of 'stunner' that makes it possible to stop thinking about other things.
In other words, the wound allows a momentary relief, guaranteeing a period of "pause" (Valastro, Cerutti and Flotta, 2014).
Forced migration and self-harm: conclusions

Self-harm as a possible outcome of forced migration is a phenomenon that is still little investigated, but where explored reveals a worrying incidence.
Moreover, in the literature this behaviour is often explored by superimposing it on suicide.
Juxtaposing these manifestations could cause a distortion in their understanding, since in one case the desire is to end one's own life, while in the other the need is to continue to exist and find a lost meaning (Gargiulo, Tessitore, Le Grottaglie, Margherita, 2020).
In interpreting this phenomenon, it is also necessary to broaden the view, considering not only the psychopathological dimension, but also the anthropological and cultural one.
In fact, it may happen that discomfort takes on forms that are not easily understood since the Western view does not know how to understand it, as it cannot rely on universal or culturally shared ways to manifest or read it (De Micco, 2019).
References:
De Micco V. (2019), Fuori luogo. Fuori tempo. L'esperienza dei minori migranti non accompagnati tra sguardo antropologico ed ascolto analitico, Adolescenza e Psicoanalisi, n. 1, Magi ed. Roma.
Gargiulo A., Tessitore F., Le Grottaglie F., Margherita G. (2020), Self-harming behaviours of asylum seekers and refugees in Europe: A systematic review, International Journal of Psychology, 2020, DOI: 10.1002/ijop.12697
Gratz K.L. (2006), Risk factors for deliberate self-harm among female college students: The role and interaction of childhood maltreatment, emozional inexpressivity, and affect intensity/reactivity, American Journal of Orthopsychiatry, 76, 238-250.
Joiner T. (2005), Why people die by suicide, Harvard University Press, Cambridge, London.
Risso M., Boeker W. (2000), Sortilegio e delirio. Psicopatologia delle migrazioni in prospettiva transculturale, Lanternani V., De Micco V.,Cardamone G. (a cura di), Liguori, Napoli.
Valastro, Cerutti R., Flotta S. (2014), Autolesività non suicidaria (ANS) nei minori stranieri non accompagnati, Infanzia e adolescenza, 13,2, 2014.
Read Also:
Emergency Live Even More…Live: Download The New Free App Of Your Newspaper For IOS And Android
Anxiety: A Feeling Of Nervousness, Worry Or Restlessness
Firefighters / Pyromania And Obsession With Fire: Profile And Diagnosis Of Those With This Disorder
Rescuer Safety: Rates Of PTSD (Post-Traumatic Stress Disorder) In Firefighters
Source: