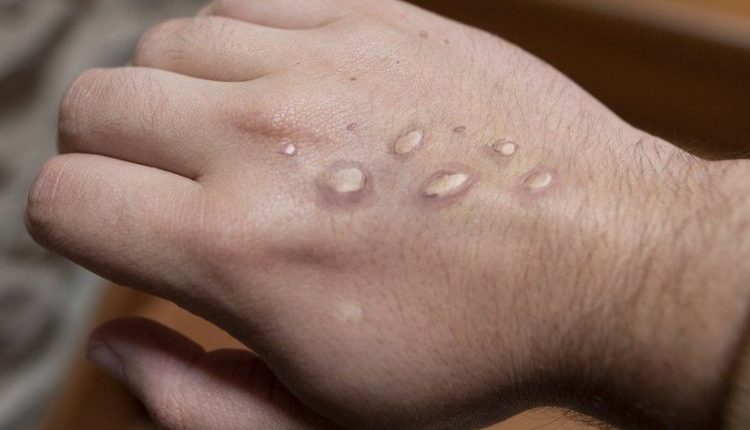 What are the symptoms of monkeypox?
Unusual cases of monkeypox are occurring all over the world. The World Health Organisation (WHO) has documented more than 550 cases in 30 countries, including those where the disease does not routinely occur
The Centres for Disease Control and Prevention (CDC) are investigating 19 cases of monkeypox in US patients.2
The disease remains rare and is much less severe than its cousin, smallpox.
Health officials are trying to understand where and how the virus is spreading in current outbreaks.
To better understand how the viral infection behaves, they can turn to the research and experience of African experts who have been working for decades to minimise the spread of monkeypox.
Although monkeypox has been well studied, many people are not familiar with the virus.
Here are the signs to look out for if you suspect you have been exposed to monkeypox.

Understanding the symptoms of monkeypox
According to the CDC, monkeypox starts with:3
fever
headaches
Muscle aches
Backache
Swollen lymph nodes
Chills
Exhaustion
After one to three days, the patient develops a rash, which often starts on the face and then spreads to other parts of the body.4
Monkeypox typically starts with flu-like symptoms, including fever, headache, muscle aches and exhaustion
Unlike smallpox, a key feature of monkeypox is that it also causes enlarged lymph nodes, according to the CDC5.
Within one to three days, a rash is likely to appear.
Monkeypox causes skin abnormalities, called lesions, all over the body, including the soles of the feet and palms of the hands.
Lesions progress in four stages from flat spots to raised bumps to blisters and pus-filled lesions.
Lesions are usually the same size and stage of development on each part of the body.
As the body heals from the disease, the lesions turn into scabs and eventually fall off3.
In some cases, patients appear to have monkeypox-like rashes without having first developed a fever, said Erica S. Shenoy, MD, PhD, medical director of Massachusetts General Hospital and a member of the Infectious Disease Society of America, in a press call.
As with all diseases, individuals can manifest symptoms in many ways.
There are many common infections that can cause symptoms reminiscent of monkeypox
Lesions can form due to allergic reactions, for example, and lymph nodes can swell in response to various infections.
When evaluating a patient with these symptoms, the CDC states that healthcare professionals should first rule out other causes, but consider monkeypox as a potential diagnosis.
Symptoms may not emerge until 5-21 days after monkeypox infection.3
People exposed to someone with monkeypox should isolate themselves from others for the full 21 days to avoid spreading it to others, Shenoy said.
The disease typically lasts two to four weeks.
So far, no deaths from monkeypox have been documented in people outside Africa.3
If you suspect you have been exposed to monkeypox, talk to a health worker about how to follow up your symptoms and avoid spreading the disease to others.

Who is at risk of contracting monkeypox?
Anyone who has close contact with an infected person has the possibility of falling ill with monkeypox.
But it is not as highly contagious as COVID-19, which spreads much more easily without direct contact with a sick individual.
Monkeypox is most often transmitted through skin-to-skin contact.
It can also be transmitted through body fluids, respiratory droplets produced by coughing and sneezing, and contaminated materials such as bed sheets.
In previous outbreaks of monkeypox, researchers have found that the likelihood of spreading monkeypox is greater for people living in the same household.7
In the United States and other countries, there is a disproportionately high number of cases 'in communities of gay, bisexual and other men who have sex with men,' according to the WHO.8
Some of these cases have been identified in sexual health clinics.9
So far, there is no evidence that the disease is sexually transmitted, and health officials emphasise that all people are vulnerable to monkeypox.8
In an interview with STAT, Maria Van Kerkhove, PhD, an infectious disease expert at WHO, said that there may be more cases emerging from 'amplification events'.
These are events, such as social gatherings and sexual networks, where people are more likely to have skin-to-skin contact with others.
When it comes to monkeypox, it is important not to stigmatise the disease based on its current associations with communities of men who have sex with men and its prevalence in parts of Africa, said Daniel Lucey, MD, MPH, FIDSA, FACP, professor of medicine at the Dartmouth Geisel School of Medicine and member of the Infectious Diseases Society of America.
Monkeypox is a zoonotic virus, i.e. it can pass from animals to humans
Scientists know that rodents and some other animals can carry the virus and transmit it to humans, but they are not yet sure whether the same applies to domestic animals.
At a WHO meeting this week, a group of experts from around the world outlined some of the outstanding questions about monkeypox, such as the possibility of asymptomatic infection, the ease with which the virus spreads through respiratory droplets, and the possibility of transmitting the disease through semen and vaginal fluids.
As scientists find better ways to tackle monkeypox outbreaks, some experts urged the scientific community to learn from the COVID-19 response and ensure that resources are shared with communities globally.
"We can't just solve the problem for high-income countries," said Helen Rees, MB BChir, a medical researcher in South Africa who moderated the 2022 WHO conference.
"We have to make sure that the solutions we propose have an equitable impact."
References:
Read Also:
Emergency Live Even More…Live: Download The New Free App Of Your Newspaper For IOS And Android
Managing Chickenpox In Children: What To Know And How To Act
Monkeypox Virus: Origin, Symptoms, Treatment And Prevention Of Monkey Pox
Monkeypox: Genesis, Symptoms, Diagnosis And Treatment
HIV Evolving 'Into Milder Form'
Monkeypox Outbreak: What To Know
Monkeypox, 202 New Cases Reported In Europe: How It Is Transmitted
Source: