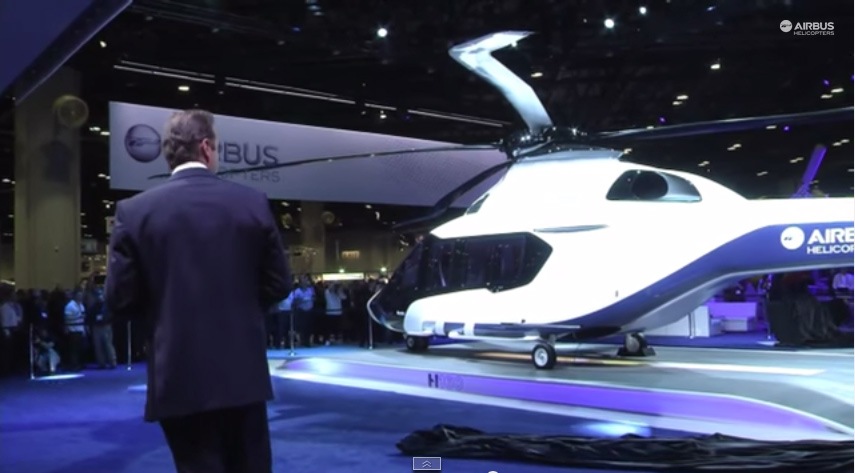 Airbus H160 Unveiled, the video from Heli-Expo 2015
FROM AINONLINE.COM – Yesterday at Heli-Expo 2015 Airbus Helicopters unveiled the H160 medium twin, a long-awaited successor to the Dauphin series designed to lock horns with the AgustaWestland AW139 in the 12-passenger market. Codenamed X4 until now, the clean-sheet design features Blue Edge main rotor blades for quieter operation, a canted Fenestron tail rotor for increased payload and the Airbus Helicopters-developed Helionix avionics suite installed on the EC145T2 and EC175. Other innovations include a full composite airframe, a biplane stabilizer—for improved main-rotor efficiency—and electrically actuated landing gear. On display here (Booth 2437) is a full-size mockup. First flight is planned for this year and entry into service in 2018.
For the offshore oil-and-gas mission, the H160 will offer class 1 takeoff performance for 12 passengers and a 120-nm radius of action. In search-and-rescue, hover out of ground effect can be maintained at up to 5,000 feet and range reaches 450 nm with a 20-minute reserve. The smooth cruise speed will be 160 knots, without any counter-vibration system.
Aurélie Gensolen, Dauphin family and X4 marketing product manager, said this is equivalent to the AW139's performance, "for one metric ton less." Speaking during a pre-show briefing at company headquarters in Marignane, France, she would not give a precise mtow but said the H160 belongs in the 5.5- to six-ton category (12,000 to 13,000 pounds). The AW139's optional mtow is 6.8 tons (just under 15,000 pounds). "Operating costs are directly linked to the weight," she emphasized. Airbus estimates the H160 will have a fuel-burn advantage of 15 to 20 percent over the AW139.
The five Blue Edge blades, already seen on an EC155 demonstrator, will bring a three-decibel improvement over the noise level of a production EC155. The 12-degree canted tail rotor is the first such design with a shrouded Fenestron. It combines the normal anti-torque role and a vertical lift component, which boosts payload by some 90 pounds, according to Bernard Fujarski, Airbus senior v-p for the X4 program.
The third major aerodynamic feature is the biplane stabilizer. It retains its stabilizing function in forward flight and augments stability on approach, according to its designers. The biplane stab also reduces the masking effect such a surface has on main rotor thrust; the bottom line is another 110 pounds of payload improvement.
The electrically actuated landing gear is seen as lighter and safer than its hydraulic equivalent. For safety, the key is eliminating lines carrying high-pressure hydraulic fluid below the cabin floor. Zodiac Aerospace is thus supplying the first-ever electric landing gear on a helicopter, AIN understands.
A deicing system is not planned yet, although provisions have been made. Demand is not expected at a compelling enough level anytime soon, as "most oil-and-gas operations with medium twins take place in the Gulf of Mexico and Asia," Gensolen said. Fujarski added that the weight penalty would be "greater than one passenger." The AW139 is available with an optional "full ice protection system."